Where Do You See Yourself in 5 Years? - How to Answer
Of all the questions a recruiter can ask a candidate, 'Where do you see yourself in 5 years' is one of the trickiest to answer. If you're unprepared for it and say something wrong, inappropriate, or embarrassing, you could easily diminish your chances of getting hired. For sure, you want to give a well-thought answer that doesn't make you come off as arrogant or self-absorbed—what you want to do is to show that your professional goals align with the job you're applying for.
Why recruiters ask this question
There are a few different reasons why recruiters ask this question. Primarily though, they want to know that you have a career plan in place because it tells them that you are goal-oriented. Secondly, they want to know if your career goals coincide with theirs. If the two don't align, the recruiter might be convinced that either you're not a good fit for the company, or you're not going to be in the job for very long and end up quitting soon. In the process, they might think twice about hiring you.
When an interviewer asks you, 'Where do you see yourself in 5 years,' you want to make them feel confident that you have the ambition to excel at your job should they decide to hire you. Likewise, you have to show them that you want to grow with the company, that you are "in it for the long haul," so to speak.
How to answer 'Where do you see yourself in 5 years'
To impress the recruiter when you answer 'where do you see yourself in 5 years,' you need to give a reply that's in line with the objectives of the job and the company. The following tips can help you craft a great response.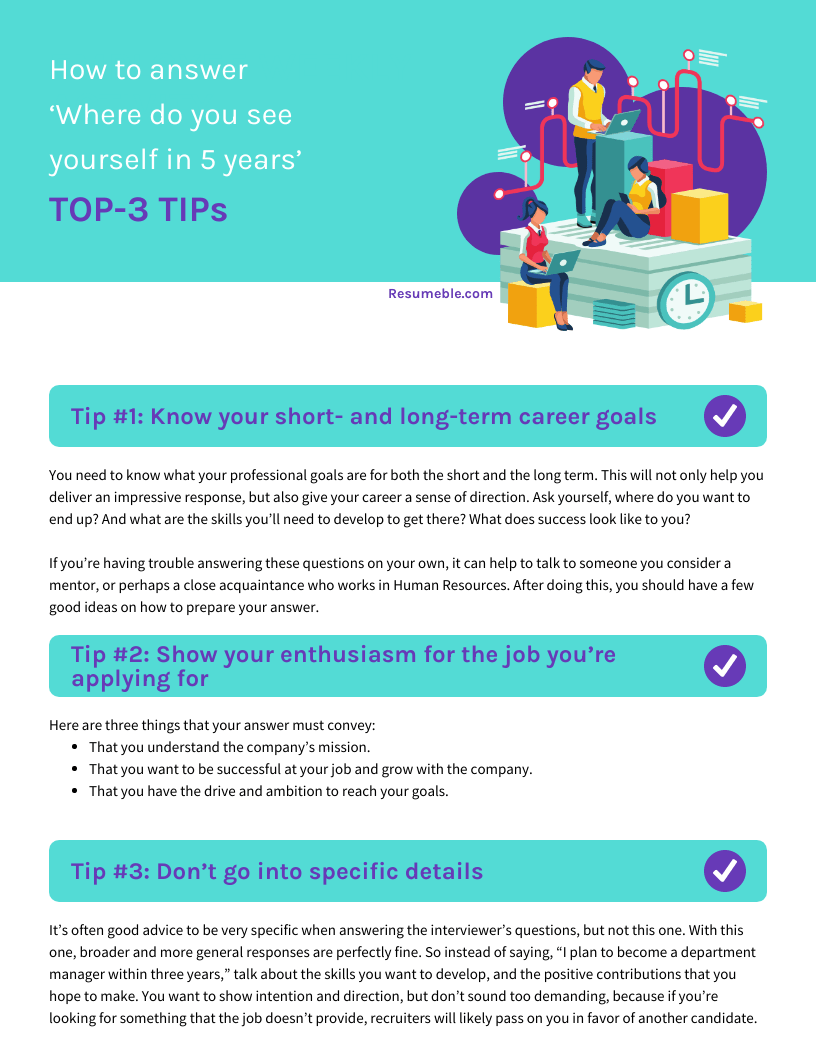 Tip #1: Know your short- and long-term career goals
To properly answer the question 'where do you see yourself in 5 years,' you need to know what your professional goals are for both the short and the long term. This will not only help you deliver an impressive response, but also give your career a sense of direction. Ask yourself, where do you want to end up? And what are the skills you'll need to develop to get there? What does success look like to you?
If you're having trouble answering these questions on your own, it can help to talk to someone you consider a mentor, or perhaps a close acquaintance who works in Human Resources. After doing this, you should have a few good ideas on how to prepare your answer.
Tip #2: Show your enthusiasm for the job you're applying for
Three things you have to exude when you appear for your job interview—confidence, focus, and determination. Professional recruiters "listen" to your body language, just as they do your words, and if you give off the feeling that you're really not interested to be there, you can bet that the interviewer will notice. With that in mind, here are three things that your answer must convey:
• That you understand the company's mission.
• That you want to be successful at your job and grow with the company.
• That you have the drive and ambition to reach your goals.
Tip #3: Don't go into specific details
It's often good advice to be very specific when answering the interviewer's questions, but not this one. With this one, broader and more general responses are perfectly fine. So instead of saying, "I plan to become a department manager within three years," talk about the skills you want to develop, and the positive contributions that you hope to make. You want to show intention and direction, but don't sound too demanding, because if you're looking for something that the job doesn't provide, recruiters will likely pass on you in favor of another candidate.
Examples of how to answer where do you see yourself in 5 years
To better give you an idea of how to craft a proper response, here are where do you see yourself in 5 years' examples for you to gain inspiration from.
Sample answer #1
"I believe that this is a job where I can put my skills to good use, and in the process, acquire new ones. In the next five years, I look forward to developing my decisiveness, vision, and willingness to take on challenging responsibilities. I hope to bring out the best of me with this job, and I am sure my time with the company will be mutually beneficial for both parties."
Sample answer #2
"My professional goal for the next five years is to become an invaluable employee, and hopefully, advance into a higher position. Your company's focus on keeping abreast with the technological advancements in our industry is what attracted me to the role, and I firmly believe this approach will help me develop the skills I need to grow and advance in my position."
Sample answer #3
"Your good company's reputation in taking good care of its employees makes me believe that this is where I can pursue and realize my career goals. Over the next five years, I see myself taking on new and challenging projects that will shape me into an ideal candidate for a managerial role in my department. I am excited to tackle the opportunities for professional growth that this job can offer me."
What not to say
If you don't want to jeopardize your chances of getting hired, make sure you don't give the following replies:
"I don't know" or "I'm not sure"– This tells the recruiter that you really haven't thought much about what to do with your professional career.
"I want to become the manager" or "I want your job" or "I want to be earning a six-digit salary by then"– though answers like these show that you are brimming confidence, they tell hiring managers that you are looking too far ahead when you should first be focusing on the job being offered to you.
Build the resume that can get you there
Of course, before you can be shortlisted for an interview on how to answer where do you see yourself in 5 years, you have to make sure your resume is one that can impress recruiters and hiring managers. Work with one of our experienced resume writers today.
-

Check Your Resume Branding

-

Learn About Main Mistakes and How to Fix Them

-

Check if Your Resume is ATS-compliant

-

Get Your Analysis within 24 Hours or Less!
Get a free resume
review
Upload Resume