Minimum Wages across the UAE in 2020
All over the world, massive layoffs, paycuts, and 'restructuring' have become inevitable, as businesses of all sizes try to keep afloat in the post-Covid-19 world.
Indeed, the Covid-19 crisis has hurt a lot of industries and sectors across the board. Many governments, including that of the United Arab Emirates (UAE), undertook massive measures and responded proactively very early on, thus minimizing the pandemic's impact on the general Emirates business environment.
Even while some western countries were debating whether the Coronavirus was a serious threat or not, the UAE took drastic steps such as closing all schools, reducing the opening hours of stores, shopping malls and offices, preponement and postponement of events, halting of mass transport systems, and issuing stay-at-home and social distancing orders for residents. All of these were implemented three days before the World Health Organization's declaration of the virus as a global crisis. As a result, the UAE's economy fared better than most.
Though the country does not implement a national minimum wage, the UAE enjoys some of the highest minimum rates across different industries. Likewise, there's a Wage Protection System in the UAE in place that ensures UAE minimum wage employees are paid in full and on time. If you plan to apply for work in this highly-developed Arab country, here are seven of the most in-demand entry-level jobs in UAE this 2020, along with the salaries (in Dirham) and responsibilities to expect.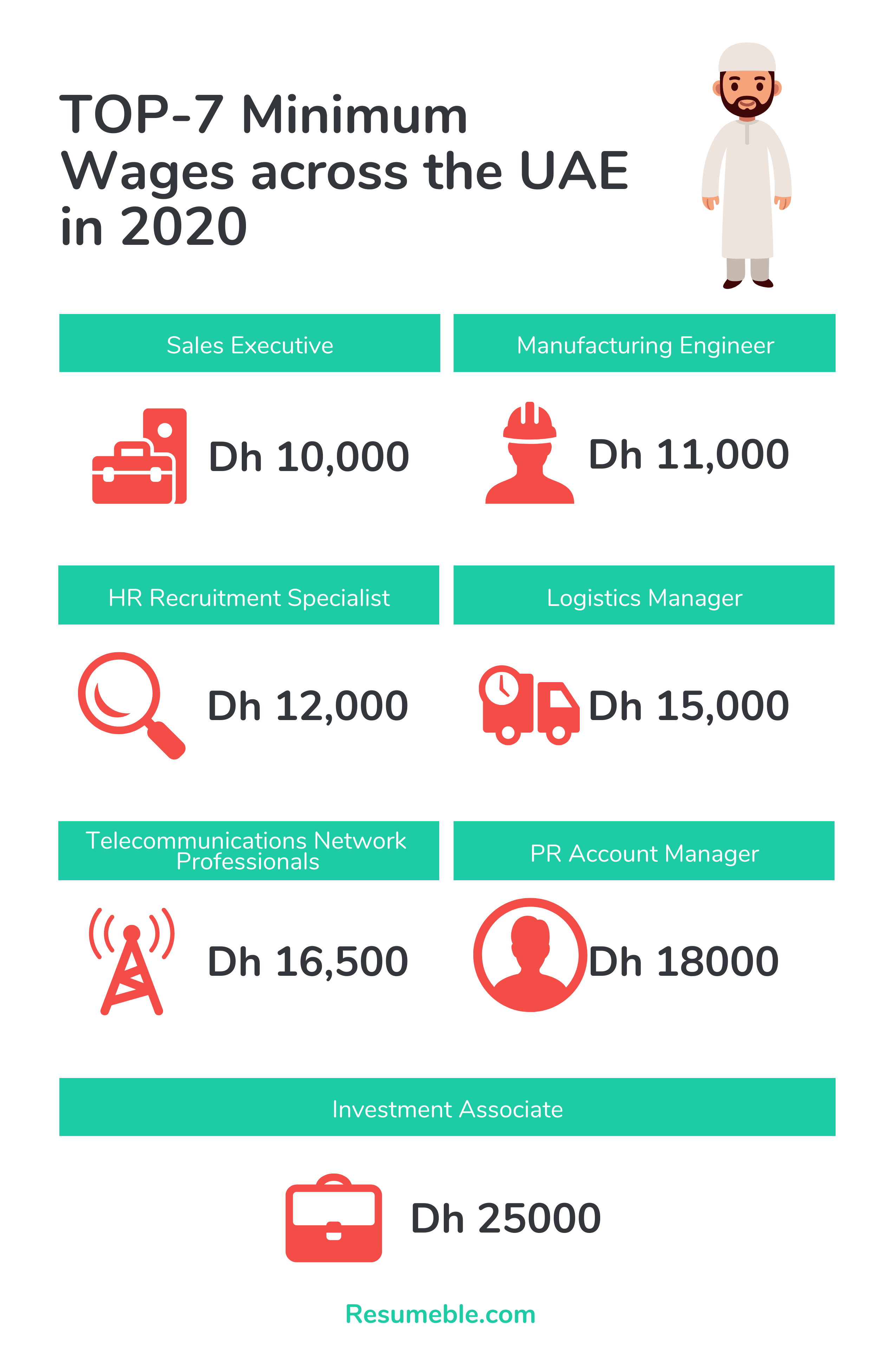 Sales Executive (Dh 10,000)
Sales executives serve as the face of the business on many occasions, as they are the ones who actively search for customers, seeking to establish a long-standing professional relationship with them. Excellent communication, marketing, and negotiating skills are part and parcel of this job that pays minimum wage in Dubai 2020, and employees in this position always need to stay on their toes due to the competitive nature of their profession.
Manufacturing Engineer (Dh11,000)
A manufacturing engineer is a technical expert whose primary duty is to improve productivity and help a company keep its operational costs to a minimum. Basic knowledge in engineering processes is a must for this job that pays minimum wage in the UAE 2020, along with a keen ability to evaluate and make sound recommendations regarding quality control methods in the manufacturing assembly line.
Human Resources Recruitment Specialist (Dh12,000)
The job of a Human Resources Recruitment Specialist revolves around the hiring and placement of employees. Depending on the needs of the organization, the job of a Human Resources Recruitment Specialist paying minimum wage in the UAE can focus on one aspect of recruitment, or the hiring process entirely. As such, job responsibilities may range from screening candidates to performing background checks, to holding job interviews and even orienting new hires.
Logistics Manager (Dh15,000)
Logistics managers are in charge of overseeing the supply chain process of an organization. With the goal of efficient management of the entire order cycle, Logistics Managers decide how an organization should purchase materials and products and ensure their prompt and accurate delivery to the departments that require them. As a job that pays what's considered minimum wage in the UAE, the Logistics Manager is inextricably linked to other departments and must know how to work harmoniously with them to ensure logistical goals are met.
Telecommunications Network Professionals (Dh16,500)
Telecommunications network professionals handle the interconnectivity between computer and communication devices and methods, directing the installation and maintenance of these systems, as well as their testing and repair. Aside from ensuring the network hardware and software systems are all functioning optimally, the technical experts working in this job for minimum wage in Dubai may also be required to design data, video, and communication systems for the organization.
PR Account Manager (Dh18,000)
The PR Account Manager's main duty is to sway public opinion to be more favorable toward his or her client. They are often responsible for managing a client's entire portfolio and finding ways to effectively market and promote them to their target audiences. 2020 PR Account Manager applicants must be adept in the use of various PR tools such as press releases, advertorials, social media, newsletters, and more. They must also be able to organize events, speaking engagements, and press conferences swiftly and seamlessly.
Investment Associate (Dh25,000)
An investment associate may be an entry-level position, but it's a financial industry, job, that's why the starting salary is noticeably better than many other entry-level jobs you can find in 2020. Investment associates are tasked with applying their financial knowledge to assess asset selection and management strategies to ensure an individual or organization can make sound investment decisions at every turn. They may also perform financial feasibility studies to identify the most sensible investment outcomes. A 4-year college degree in a business field is considered a must, and higher degrees in finance and accounting will give applicants a competitive edge.
Find work in the UAE today
Do you think you qualify for these UAE jobs this 2020? Make sure your resume will get noticed by the country's recruiters by letting our expert writers here at Resumeble assist you in crafting your new application document. Send us your resume for a free, no-obligation evaluation today!
-

Check Your Resume Branding

-

Learn About Main Mistakes and How to Fix Them

-

Check if Your Resume is ATS-compliant

-

Get Your Analysis within 24 Hours or Less!
Get a free resume
review
Upload Resume