How to Brand Yourself?
In today's highly competitive environment, you need to stand out more than ever, and the way to do that is to develop your personal brand.
Aside from helping you understand your strengths and weaknesses, having a personal brand allows you to show the world what you're all about. It informs people who you are, what you do best, and what you want to do in your life.
Social media as a branding tool
If you've been finding it hard to develop your personal brand, your social media pages are a great place to start. As one of if not the most important marketing tool for building one's personal brand in the modern age, social media has become a true necessity because of the numerous benefits it can bring to one's professional and career goals.
Before you get started on how to brand yourself on social media, it's important to keep in mind that personal branding takes time to develop. But with the right strategy and continuous, unwavering effort on your part, you'll be able to create a personal brand you can be proud of.
Defining your personal branding goals
Your first step on how to brand yourself online is to know what you want to achieve with your personal brand. Do you want to become an influencer, start your own business, or perhaps land your dream job? By knowing what you want to accomplish, you'll be better equipped to create a branding plan that works, not to mention select the right social media channels for your objectives.
Develop a compelling brand statement
A strong brand statement clearly differentiates you from your 'competitors,' so to speak. When it comes to how to brand yourself on social media and online, the way to develop this brand statement is to make your audience feel better connected with you. Do that, and your audience will trust you more.
So how do you build a great brand online?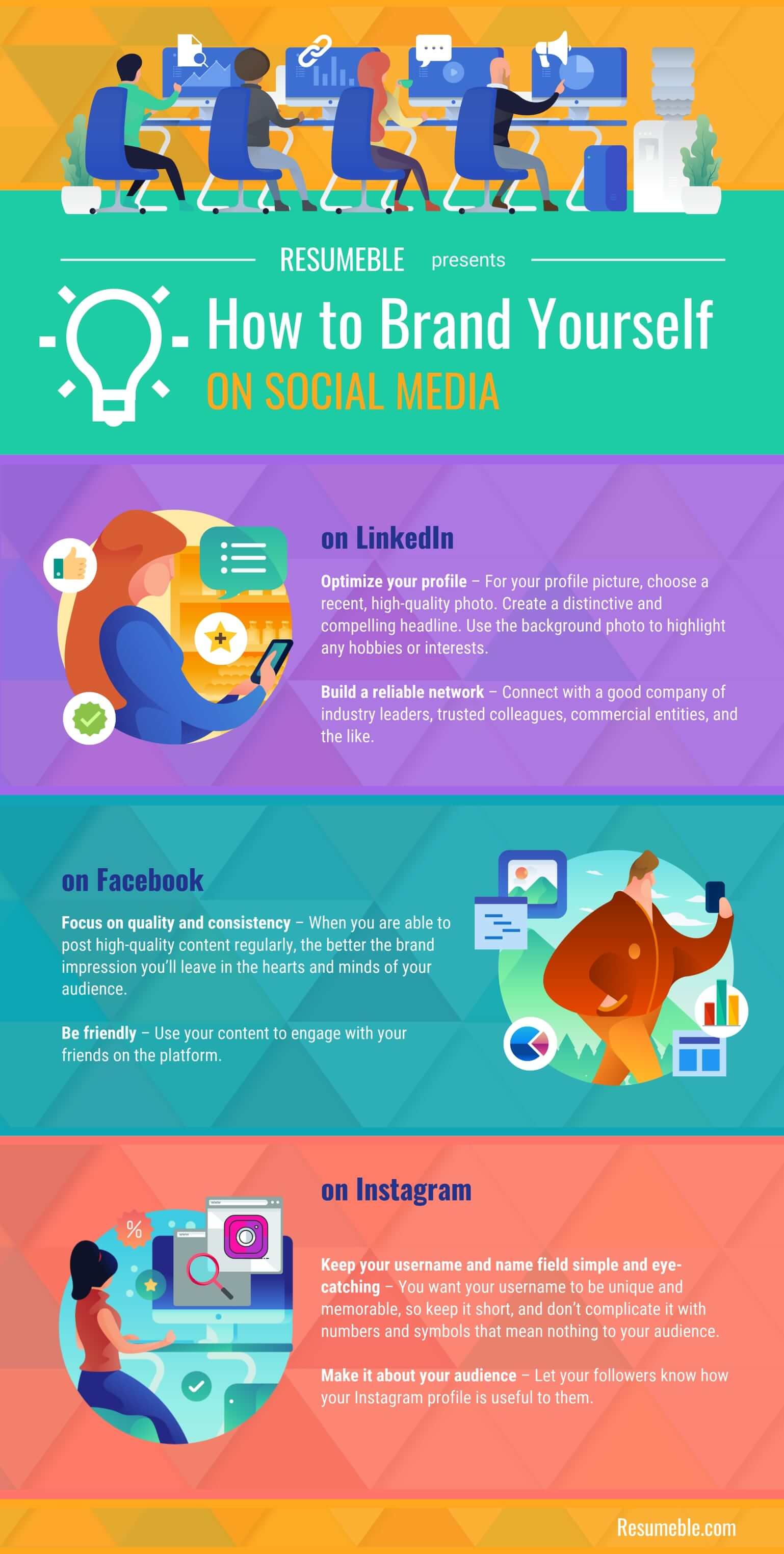 The thing to remember about creating a trustworthy brand online is to effectively communicate your areas of expertise, the goals you want to accomplish, and the mission and vision that you embody. There are many tools and methods of great branding, from a great resume, to a well-crafted LinkedIn page, or even posting informative and relevant content on Facebook and Instagram. Here are some tips to get you started.
How to brand yourself on LinkedIn
As a network for professionals, LinkedIn is not only popular among businesses but job seekers as well. Here are some key tips to developing your personal brand on LinkedIn:
Optimize your profile – For your profile picture, choose a recent, high-quality photo where you look polished and well-put-together. Create a distinctive and compelling headline that states your expertise and vision for the job position you currently hold. Use the background photo to highlight any hobbies or interests that say something positive about your work ethic.
Build a reliable network – Connect with a good company of industry leaders, trusted colleagues, commercial entities, and the like. When you make meaningful connections on LinkedIn, you create perception by association, which can help elevate your personal brand.
How to brand yourself on Facebook
As the world's most popular social media channel, it's impossible to ignore Facebook's potential for personal branding. Make sure to practice the following strategies when branding yourself on Facebook.
Focus on quality and consistency – Make every post count. When you are able to post high-quality content regularly, the better the brand impression you'll leave in the hearts and minds of your audience.
Be friendly – Use your content to engage with your friends on the platform. Uphold an approachable and friendly persona to make your brand more appealing and trustworthy.
How to brand yourself on Instagram
Instagram is the platform preferred by the younger generation, with 67 percent of users between the 18 to 29 age bracket. It is also heavily dependent on visuals. Keeping these two distinctions in mind is crucial to succeeding with personal brand development on the site.
Keep your username and name field simple and eye-catching – You want your username to be unique and memorable, so keep it short, and don't complicate it with numbers and symbols that mean nothing to your audience. As for your name field, use targeted keywords that will help people find you on Instagram.
Make it about your audience – Let your followers know how your Instagram profile is useful to them. Tell them who your profile is for, and how they can benefit by following your account.
Your resume as a branding tool
Did you know that your resume can be an effective tool for branding as well? Find out more by talking to us at Resumeble. Better yet, let us evaluate your resume at no cost or obligation to you. Contact us today.
-

Check Your Resume Branding

-

Learn About Main Mistakes and How to Fix Them

-

Check if Your Resume is ATS-compliant

-

Get Your Analysis within 24 Hours or Less!
Get a free resume
review
Upload Resume