Is It Really Worth Hiring a Resume Writer to Fix my Resume?
You worked hard on your resume. Looking proudly at your handiwork, you felt confident that you'll get positive responses soon after sending it out. But now, weeks have passed, and you still haven't received any callbacks from recruiters. What gives? Perhaps the right question to ask yourself is, "How can I fix my resume?"
Although you may have crafted a well-written resume, there's more to the process than you think. Aside from proper formatting and making sure it's error-free, you also have to take into account the format, keywords, use of strong action verbs, etc., to make sure your resume jumps out from the rest.
Here are reasons why it's worth your while to admit to yourself: "It's time to pay someone to fix my resume."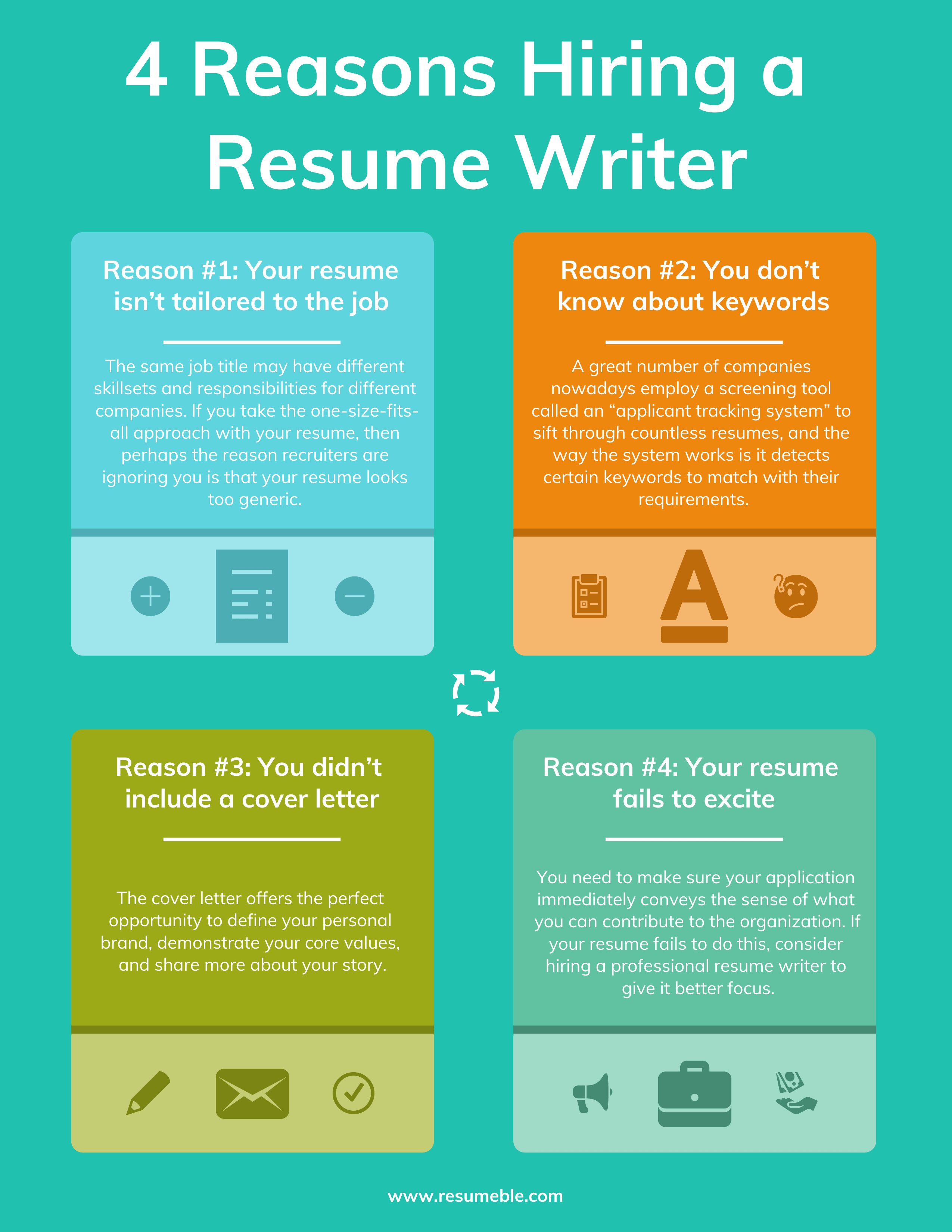 Reason #1: Your resume isn't tailored to the job
The same job title may have different skillsets and responsibilities for different companies. If you take the one-size-fits-all approach with your resume, then perhaps the reason recruiters are ignoring you is that your resume looks too generic. You want your resume to speak directly to the reader, and an expert resume writer like the ones we have at Resumeble can help make that happen for you.
Reason #2: You don't know about keywords
A great number of companies nowadays employ a screening tool called an "applicant tracking system" to sift through countless resumes, and the way the system works is it detects certain keywords to match with their requirements. If you can't identify and apply these keywords correctly, rest assured, your resume isn't going to reach the eyes of recruiters and hiring managers. At this point, it's okay to admit to yourself, "I need someone to help me fix my resume."
Reason #3: You didn't include a cover letter
Whether required or not, it's always a good idea to attach a cover letter to your resume. Aside from giving your application some personality, it also allows you to expound on details constrained by the one-page resume limit. Aside from these, the cover letter offers the perfect opportunity to define your personal brand, demonstrate your core values, and share more about your story.
Reason #4: Your resume fails to excite
Your resume not only needs to showcase your value, but it needs to do so quickly. With most recruiters taking only a few seconds to scan a resume, you need to make sure your application immediately conveys the sense of what you can contribute to the organization. If your resume fails to do this, consider hiring a professional resume writer to give it better focus.
Suffice to say, writing a cover letter for your resume is something you should never forgo, so finding an able professional who can "make a cover letter and fix my resume up" for you is something you should seriously consider. If you find it difficult to write a cover letter, don't worry, Resumeble has your back. All three of our packages come with cover letter writing, and we even provide the service a la carte should you need it.
Conclusion
Not everyone can write a resume. Conversely, some people are adept at it, and our in-house writers here at Resumeble just happen to be such people. If you're asking "Who can help me fix my resume?" Resumeble is your answer.
Ready to move forward with your job search?
It can't be overstated how important the quality of your resume will be to your job search, so you shouldn't hesitate to go in when it comes to ensuring your resume becomes the best it can be. Send Resumeble your resume today for a free, no-obligation evaluation to see where your resume falls short. Should you decide to ask us, "Can you fix my resume?" We can also help you develop your resume via one of our service packages.
3 frequently asked questions about professional resume writing
1. Is there any guarantee to using a professional resume writer?
When you hire a reputable resume writing service, the quality of your resume is pretty much guaranteed. Plus, Resumeble's services come with a 60-day job interview guarantee upon completion of your order. If you don't get a call within that span of time, we will rewrite your document completely free of charge.
2. How much do I have to pay to have my resume professionally written?
Resumeble has three main service packages to suit different career levels. Choose from Career Pro (USD 149.00), Professional (USD 229.00), or Premium (USD 339.00). Each comes with Resume and Cover Letter writing, plus other additional services, depending on the package you choose.
3. How long does it take for a professional writer to write my resume?
It usually takes a Resumeble writer five to seven calendar days to complete an order. After you've chosen a package, one of our writers will contact you and work with you one-on-one to flesh out your resume and tailor it according to your needs. A first draft will be sent to you usually within three to four calendar days, and a final resume two to three days afterward.
-

Check Your Resume Branding

-

Learn About Main Mistakes and How to Fix Them

-

Check if Your Resume is ATS-compliant

-

Get Your Analysis within 24 Hours or Less!
Get a free resume
review
Upload Resume