Is a Resume Writing Service Worth It?
ave you ever started writing your resume and suddenly felt lost while in the middle of it, to the point that you just stop in frustration? Resume writing is easier said than done, and for those who realize that writing their own application is not their cup of tea, don't worry. Professional resume writing services like Resumeble can take on the task for you. If you're wondering if a resume writing service is worth it, let us enlighten you on the numerous benefits.
Expertise in the field
Just as you may possess deep knowledge, skill, and experience in your chosen field, the same can be said about professional resume writers. Though you may struggle to write a resume that will have recruiters clamoring to interview you, a professional resume writer will know how to make this happen.
The bottom line: a professional resume writer will know what the hiring people are looking for in a resume. Likewise, they will know how to highlight your strongest points and diminish your weak ones. Is a resume writing service worth it? Yes, because ultimately, they will know how to properly convey your skills and experiences in a way that showcases your value to your prospective employer.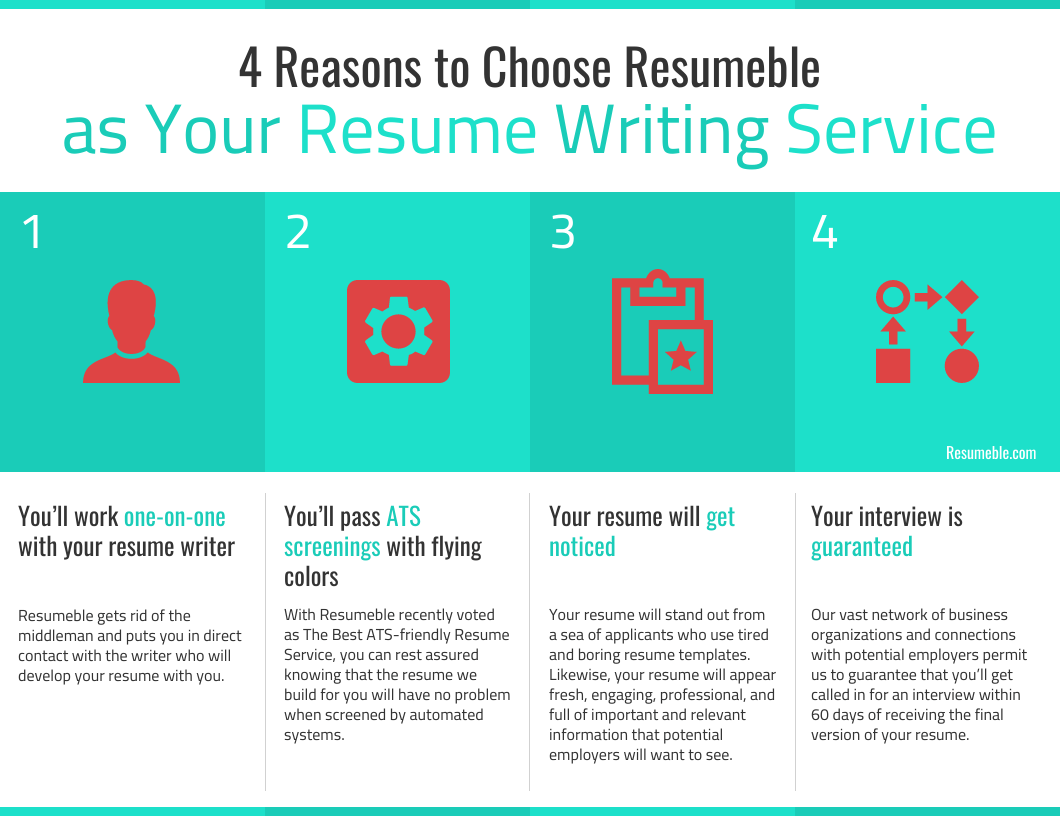 Knowledge of how hiring practices work
Professional resume writers who have years of experience honing their craft are fully aware of the hiring standards of multiple industries. This means that even if you're working in a very technical field, they will still know which keywords, formatting, and techniques to use so your resume will land on the short list of hiring managers. This insider knowledge is why "Yes" is the answer to the question of whether "Is a resume writing service worth it?"
Understanding of your application goals
Of course, your ultimate goal in writing a resume is to land an interview and get hired. Simple right? Actually, it's much more complex than that. A resume must first meet a number of criteria before it can be considered high quality and worthy of a recruiter's attention. Here are five resume requirements
• Targeted to the position you're applying for
• Results-oriented, with achievements displayed in measurable terms
• Contain the right keywords
• Well-formatted and organized
• Error-free
An expert resume writer can ensure your resume hits these criteria before you send your application out to potential employers. One more reason why "Yes" is the answer to the question of whether "Is a resume writing service worth it?"
Peace of mind
Writing a resume can be stressful to the point of nerve-wracking. Hiring a resume writing service can take that load off your shoulders and reduce the job-hunting pressure you may feel. With your resume taken care of, you can focus on other aspects of your application, such as searching for good referrals, practicing answers to interview questions and the like. Though the service can be pricey, the assurance of a top-notch quality resume is why "Yes" is the right answer to "Is it worth paying for a resume service?"
Resume writers can teach you a lot about resume writing
A resume writing service is a wonderful resource for learning the tricks of the trade of resume writing. After working with a resume writing service, you can use what you've learned to develop your resume in the future. So, is a resume writing service worth it? Of course, especially if it helps improve your resume writing ability for future prospects. Who knows? If you get good at it, you could even cash in on your newfound talent by becoming a resume writer down the road.
4 reasons to choose Resumeble as your resume writing service
Not every resume writing service is the same. When selecting the service that will write your resume for you, Resumeble is the wiser choice, because of the following four reasons.
1. You'll work one-on-one with your resume writer
Resumeble gets rid of the middleman and puts you in direct contact with the writer who will develop your resume with you. Our resume writing service uses a unique consultancy approach wherein you are constantly communicating with your writer to ensure that your finished resume delivers the maximum value for your geographical and industry-specific requirements.
2. You'll pass ATS screenings with flying colors
Organizations these days are increasingly relying on applicant tracking systems (ATS) to screen applications. With Resumeble recently voted as The Best ATS-friendly Resume Service, you can rest assured knowing that the resume we build for you will have no problem when screened by automated systems.
3. Your resume will get noticed
Professional resume writers can help make your resume more eye-catching and appealing with unique style, format, and content choices. Your resume will stand out from a sea of applicants who use tired and boring resume templates. Likewise, your resume will appear fresh, engaging, professional, and full of important and relevant information that potential employers will want to see.
4. Your interview is guaranteed
Our vast network of business organizations and connections with potential employers permit us to guarantee that you'll get called in for an interview within 60 days of receiving the final version of your resume. If in case you don't get that call, don't worry—we'll rewrite your resume completely free of charge. Our services are yours until you make it. This means you don't have to ask, "Is it worth paying for a resume service?" Because the answer is a resounding "Yes!"
Is it worth paying for a resume service? With Resumeble, yes it is
Choose from one of our resume writing packages according to your needs. Enjoy the many benefits of our services and stop asking yourself, "Is it worth using a resume writing service?" Contact us today.
-

Check Your Resume Branding

-

Learn About Main Mistakes and How to Fix Them

-

Check if Your Resume is ATS-compliant

-

Get Your Analysis within 24 Hours or Less!
Get a free resume
review
Upload Resume