How to Write a Resume in Singapore
If you are looking for greener pastures in a foreign country, perhaps you will want to consider Singapore. Nine out of 10 foreign employees have explicitly stated that they love the Southeast Asian country's working environment. On top of that, Singapore consistently receives top marks for education, healthcare, and overall quality of life, so it's no wonder why applicants from all over the world are sending their Singapore resume and clamoring to find work in the so-called City of Lions. If you want to be successful with your application and land a job here immediately, Resumeble teaches you how to write a resume in Singapore with these amazing tips.
Include a cover letter
Too often, applicants to Singaporean jobs will send only their resume, not knowing that many employers here prefer it to be accompanied by a cover letter. Cover letters are a way for recruiters to get to know their candidates better, so don't make the mistake of not including one with your Singapore resume.
Resumeble also offers cover letter writing along with our professional resume writing services. We can help ensure that your cover letter is the perfect complement to your CV Singapore or resume Singapore. Don't hesitate to ask us to learn more about this particular service.
Customize for the job
Sending out a generic resume will only hurt your chances of getting hired. You need to make sure your resume Singapore is tailored specifically for the job and company you want to work for—this means studying the job requirements, and only including information that is relevant to the job in question. Avoid using vague and indirect wordings such as "participated in" that doesn't really reveal how or what you contributed, and will only lead to misperceptions and misunderstandings. Use words that clearly define and describe your skills, qualifications, and expertise. This will help you secure the extra points you need to get shortlisted as the HR people evaluate your resume.
Use professionally accepted language
Singapore prides itself on its diversity—numerous races and cultures call the City of Lions their home. This means you have to be upstanding and considerate with your word choice while being respectful of the different cultures. As both British and American English are accepted here, you need to find out which English vocabulary is preferred by the company you're sending your resume to. And be careful with words that other cultures might deem offensive or discriminating. That's the easiest way to have your Singapore resume hurling towards the recycle bin.
Include the proper keywords
Faced with pile upon pile of applications, many employers will use automated applicant tracking systems (ATS) to scan resumes to see if their senders qualify for the job. These automated applications detect keywords, and if your resume doesn't contain the right terms and phrases, you can bet that it has no chance of ever reaching the eyes of a recruiter or hiring manager.
To have the proper keywords in your resume, you must comb over the job posting thoroughly, with a keen eye on prominent and unique keywords. Very often, these will be specific skills, know-how, training, and experiences in the job description. Take note of these keywords and use the exact wording on your resume. If you don't and simply use a similar word, the ATS may not pick it up. By using the proper keywords, you'll be able to match up your qualifications with what the company is looking for in a candidate.
Be ready with your references
Make sure to include three to four references in your resume. These can be your former managers and mentors who you personally know in a professional capacity. Include their names, job position, the name of the company/institution they work for, and contact details which should include their email and phone number. Don't forget to include the country code if they're not from Singapore. Inform your references beforehand so they can prepare with a glowing recommendation of you in case a potential employer calls them up.
How to write a resume in Singapore: What not to do
Just as there are good practices to writing a Singapore resume, there are also bad ones. Keep in mind to avoid the following mistakes on how to write a resume in Singapore if you want an application that impresses you.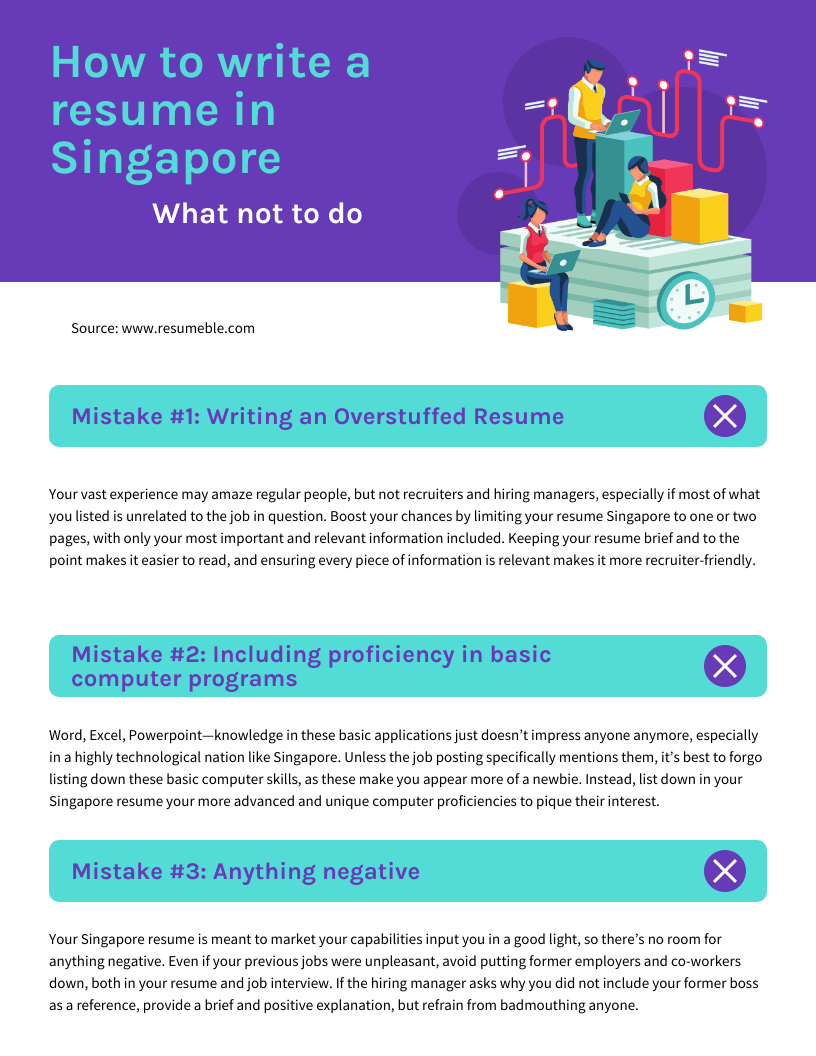 Mistake #1: Writing an overstuffed resume
Your vast experience may amaze regular people, but not recruiters and hiring managers, especially if most of what you listed is unrelated to the job in question. Boost your chances by limiting your resume Singapore to one or two pages, with only your most important and relevant information included. Keeping your resume brief and to the point makes it easier to read, and ensuring every piece of information is relevant makes it more recruiter-friendly.
Mistake #2: Including proficiency in basic computer programs
Word, Excel, Powerpoint—knowledge in these basic applications just doesn't impress anyone anymore, especially in a highly technological nation like Singapore. Unless the job posting specifically mentions them, it's best to forgo listing down these basic computer skills, as these make you appear more of a newbie. Instead, list down in your Singapore resume your more advanced and unique computer proficiencies to pique their interest.
Mistake #3: Anything negative
Your Singapore resume is meant to market your capabilities input you in a good light, so there's no room for anything negative. Even if your previous jobs were unpleasant, avoid putting former employers and co-workers down, both in your resume and job interview. If the hiring manager asks why you did not include your former boss as a reference, provide a brief and positive explanation, but refrain from badmouthing anyone.
Work with Resumeble for your Singaporean resume
Worry no more about how to write a resume in Singapore. Let Resumeble's resume writer Singapore worry about your resume or CV Singapore so you can focus on other aspects of your application, such as securing a work visa or preparing your answers for the job interview. Our resume writing services come with a 60-day interview guarantee. Take the right steps toward a fruitful career in Singapore by hiring us for your resume writing needs. Contact us today!
-

Check Your Resume Branding

-

Learn About Main Mistakes and How to Fix Them

-

Check if Your Resume is ATS-compliant

-

Get Your Analysis within 24 Hours or Less!
Get a free resume
review
Upload Resume