Creative Resumes
When formatted properly, a resume will immediately grab a hiring manager's attention. Of course, format is just one part of the equation. To be the best candidate for the job, your resume also needs to be engaging, authentic, and informative.

Many websites offer tips on how you can build a proper resume, but what if you work in a unique or not-so-common industry such as entertainment, aviation, education? Unfortunately, tips from general-themed, one-size-fits-all resume websites often wouldn't apply. Here's how to optimize your resume and increase your chances of landing your dream job.
Entertainment Industry: How to Build an Acting Creative Resume
For an actor, a resume is like a calling card that you must carry with you at all times. It needs to showcase not only the acting classes you've taken and the projects and productions you've been a part of, but also your physical statistics, representation, and other special talents you may possess that may be of use to the production. Below are the points to keep in mind to make your resume as attractive and professional-looking as possible.
Limit your resume to just one page.
Match it to the size of you 8x10 headshot. You'll need to cut off the excess paper.
Use uniform text all throughout. Don't use flourishes such as borders and multiple colors.
Break your resume into four sections: personal information (name, physical description, contact information, and agency and/or guild affiliations (if any)), acting roles, training, and special skills.
Rank your acting projects starting with latest first.
Here's an example of what an acting resume should look like: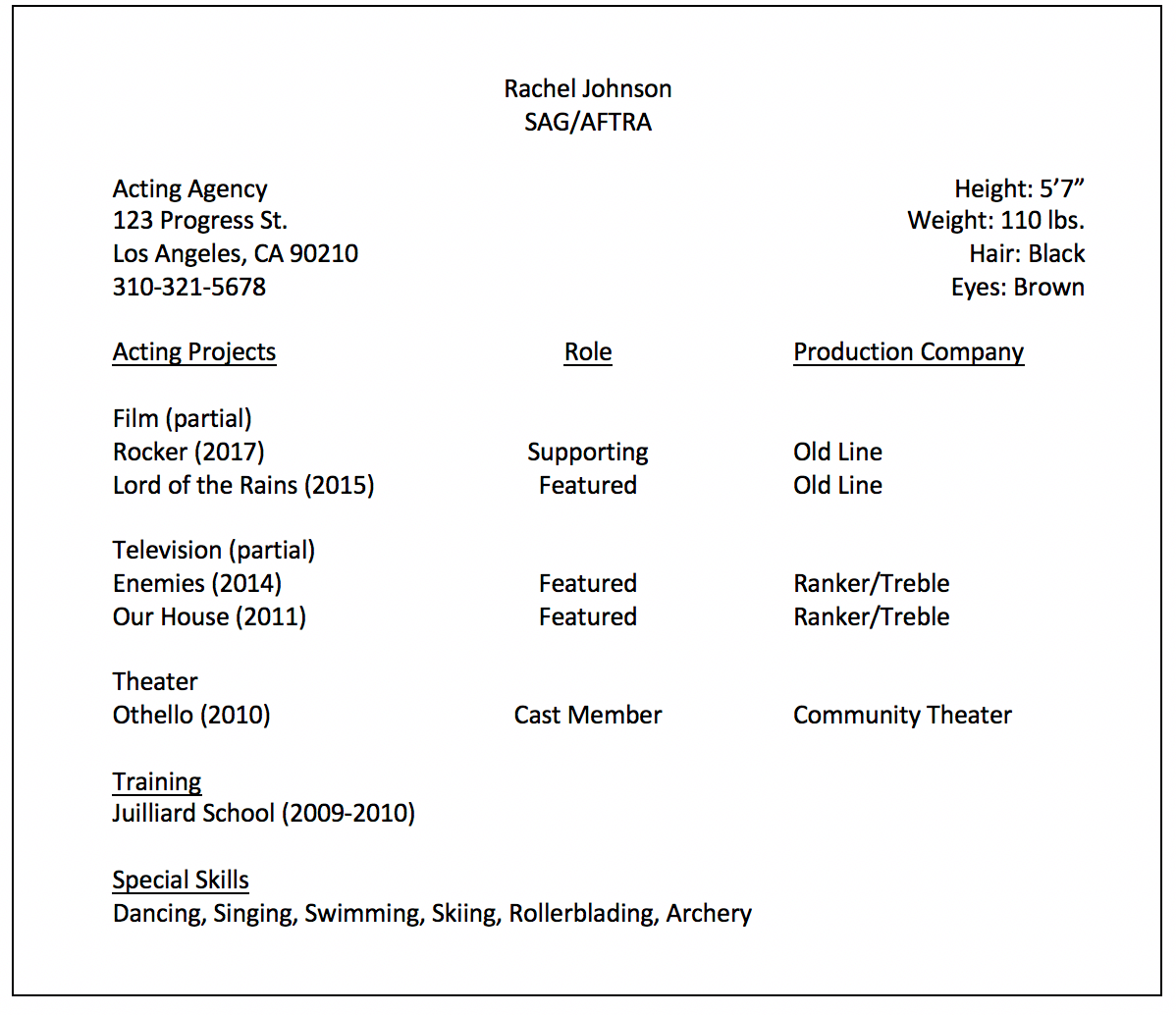 Aviation Industry: How to Put Together a Pilot Creative Resume
Aviation is one of the rare industries that don't usually require applicants to submit a resume, as recruiters will primarily refer to the company application that they require you to fill up when you apply. However, that doesn't mean that you should forgo submitting a resume altogether, as it can add a professional, organized touch to your application. Points to remember when writing a pilot resume are:
Limit your resume to just one page
Put your references on a separate sheet of paper. Do not put them on your resume.
Use the same paper type and size for your resume, cover letter and reference sheet.
Break your resume into four sections: flight training, qualifications (certifications, experience, education, honors and awards, etc.), interests, and community involvement (if any).
Aside from your name and address, it is not necessary to include other pieces of personal information (birthdate, height, weight, contact information, etc.), as these are already noted in the company application.
Below is a sample of a pilot resume: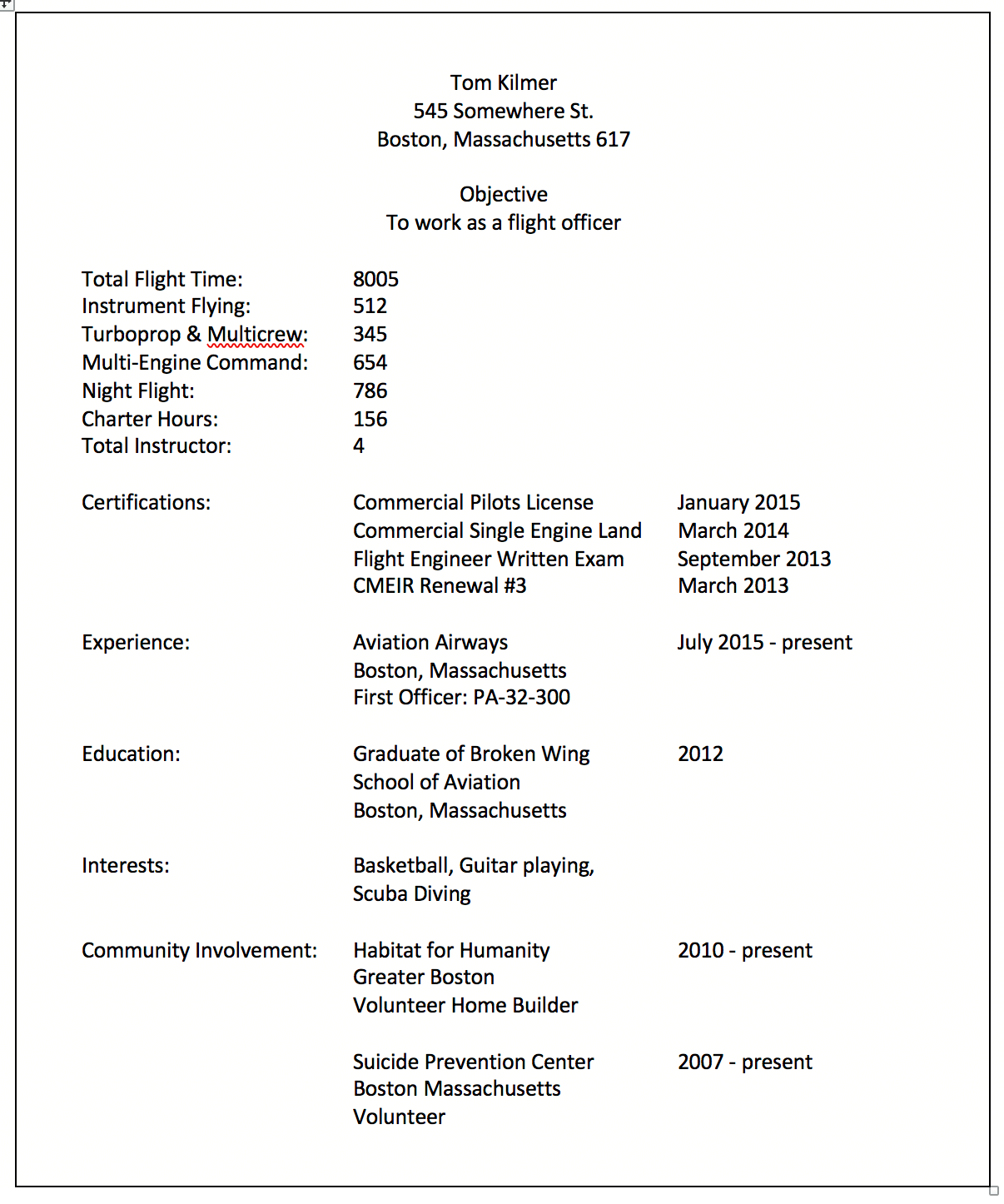 Education Industry: Creating a Teacher's Creative Resume
Education is a highly competitive field. To stand out, you need to highlight your willingness to learn and grow in the culture and environment of the school you want to work in. You also need to be unwilling to tolerate mistakes in your resume, especially if you teach English. Be particular about uniformity in your resume, so make sure to use the same font type and size, the same bullet points, the same margin lengths, etc. Schools want professional, polished resume from their applicants, so you need to set a high standard for yourself when you writer your resume. Read about the things you have to keep in mind when writing a teacher's resume below.
Start your resume with your summary/objective. This should clearly state your intention and sincerity to teach. Of course, your objective should come after your name and personal details.
Include in your resume your work experience (include month and year start and end date), education (include years attended), certifications, and other skills relevant to the job.
List your professional experience in bullet points. Make sure your bullet points are quantified and accomplishment-centric.
Choose the best and most relevant skills, training, and abilities that you've accumulated through the years.
Focus on accomplishments, not duties.
Consider CV format instead of resume.
Most importantly, do your research and don't be shy to ask for help.
-

Check Your Resume Branding

-

Learn About Main Mistakes and How to Fix Them

-

Check if Your Resume is ATS-compliant

-

Get Your Analysis within 24 Hours or Less!
Get a free resume
review
Upload Resume