How to Make a Resume for Recent College Graduate
Writing a resume can be challenging for anyone, and even more so for a recent college graduate, mainly because there's little to no experience to speak of.
Since resumes are all about the experience, having practically none of it can make the task of writing a recent graduate resume harder than it should be. Add to that the fact that you'll be applying along with a slew of other fresh graduates (and probably more than a few experienced applicants), and it's easy to get overwhelmed by the whole thing, as our seasoned writers here at our resume writing service will tell you.
Before you worry yourself sick, understand that even a fresh grad like you can still write a strong, outstanding resume that boosts your chances of getting hired. It's all about knowing the best tips and techniques in crafting a recent college graduate resume. Here are some tried-and-true tips on how to make a resume for recent college graduate to get you started on the right track.
Start with a resume summary
Studies have shown that recruiters and hiring managers take an average of six seconds reading a resume. A resume summary ensures they find what they need from your recent graduate resume within that short span of time.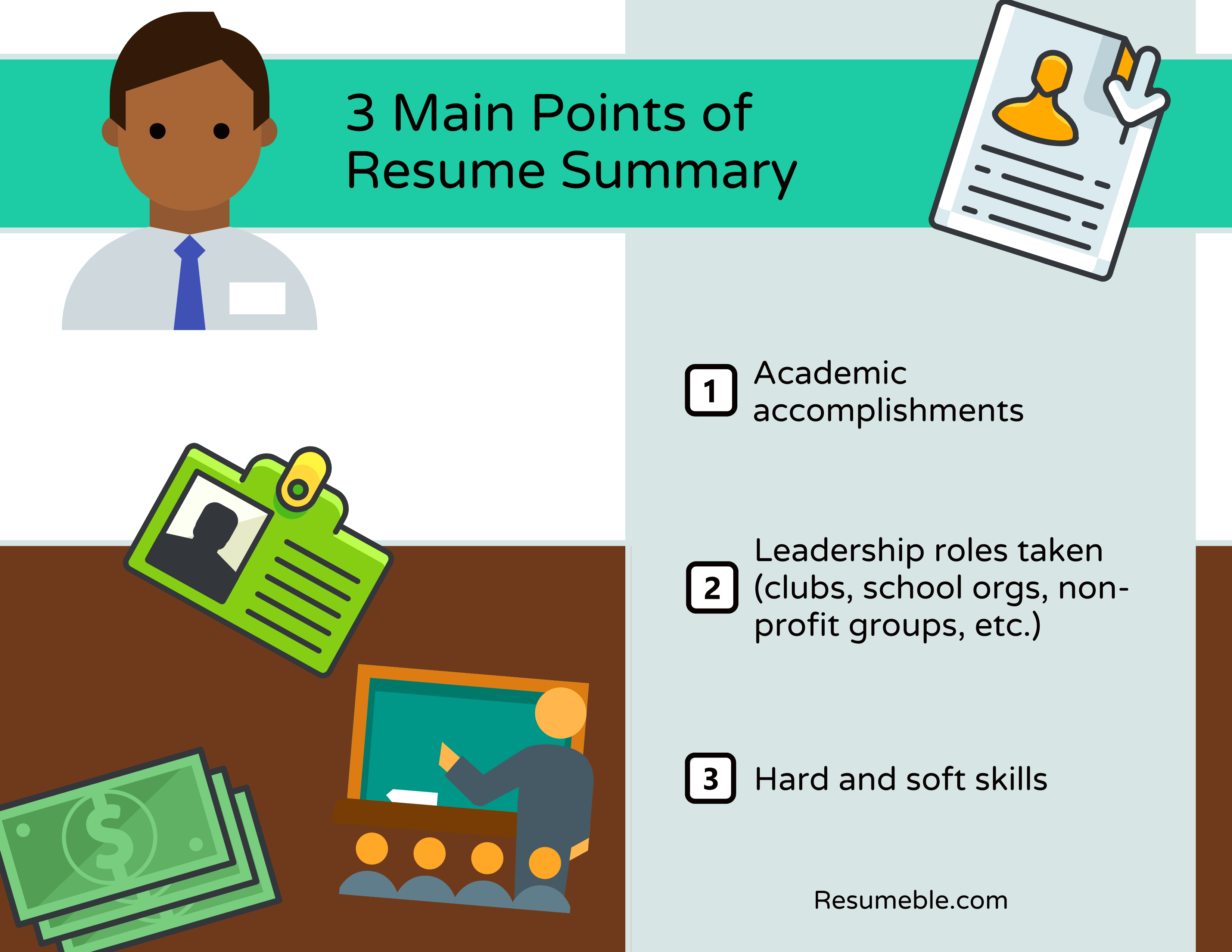 The resume summary is an important section for recent college graduates like you because it lets you highlight your most sellable qualities and immediately convey your value as a future employee. Make sure your resume summary stands out by including the following:
Academic accomplishments
Leadership roles taken (clubs, school orgs, non-profit groups, etc.)
Hard and soft skills
Incorporate these into your resume organically, and include statements on how you expect to deliver results as well as how you can to help the employer achieve their goals when hired. Place your summary statement immediately below the personal information section on your resume so it's one of the first things your readers see on your recent graduate resume.
Highlight your educational attainment
As a new graduate, your education is going to be your biggest application asset. You'll want to put this information right after your resume summary. Include the name of your college, your graduation date, and your major. If you graduated with honors, or had a 3.5 GPA or above, you'll want this info to feature that prominently on your resume.
You may also include a list of minor courses completed apart from your main degree, but do this only if you cannot express certain skills that the job calls for in any other manner. As you move forward with your career path, you will be able to move your education to the bottom of the last section of your resume.
Mention awards
You can include a list of awards and recognitions acquired during your time in college. These should be kept brief and apply only to recent activities. You may be tempted to put as many accolades on your resume as possible, but avoid including experiences before college, as these are not generally considered relevant in a professional setting. That said, youth awards of great significance (for instance, Young American Award or President's Youth Award) can be included.
Use keywords
Avoid tired buzzwords like "hard-working" and "team player" and put keywords used in the job posting instead. Review the posting carefully and try to identify prominent words that match the job and industry. It also helps to use the words that the employer used to describe the qualities that they are looking for in a candidate. For example, if the posting describes that candidates should be "tech-savvy," "progressive" or "forward-thinking," make sure to include these in your resume. Again, the trick here is to incorporate the words organically.
Include any little work experience you may have
Did you go through an internship? Take a teacher's assistant role? Work while studying? Paid or unpaid, work experiences such as these may be worth mentioning, especially if they have transferrable skills that relate to the job you're applying for. Listing the little work experience that you may have can be helpful in conveying your drive to succeed, even if they are not directly related to the job you're applying for.
Add hobbies and interests
If you're having trouble filling up space on your resume, you can include Hobbies and Interests as your final section. Likewise, any presentation or publication will also work. If you have had the opportunity to present at any event or have your work published by a major publication, you can include these and other similar information at the bottom of your resume.
Check, recheck, then check again
Many recruiters and hiring managers take note of any spelling, grammatical, and punctuation errors in a resume. Often, they consider poorly-written resumes as an indication of a candidate's overall work ethic, so carefully comb over your resume for any errors. Try to use clear, concise language and avoid bad writing techniques like keyword stuffing where you pad your resume with too many keywords that end up destroying your message. To be on the safe side, have someone adept in written English read it over as well.
Feeling anxious about your resume writing skills?
Don't fret, Resumeble is here to help. Our professional resume writers will work with you one-on-one to craft a resume that not only grabs and sustains the attention of recruiters but also beats Applicant Tracking Software (ATS) widely used by many companies today to screen candidates. We guarantee you an interview call within 60 days of finalizing your resume. Send us your resume recent graduate today for a free, no-obligation evaluation!
-

Check Your Resume Branding

-

Learn About Main Mistakes and How to Fix Them

-

Check if Your Resume is ATS-compliant

-

Get Your Analysis within 24 Hours or Less!
Get a free resume
review
Upload Resume