Why Is It Important to Attend Career Fair Events?
Career fairs - otherwise known as job fairs - are scheduled events where businesses and job seekers get to connect with each other in one venue.
By design, career fairs make it easy for businesses to find high-quality candidates while simplifying the application process for the interested applicant. If you're asking yourself are career fairs worth it, these events are basically a win-win situation for all parties involved.
It goes without saying that for employers who are struggling to find the right candidates, as well as employees who are having trouble finding the perfect job, both of them can potentially benefit immensely from participating in career fair 2020 events.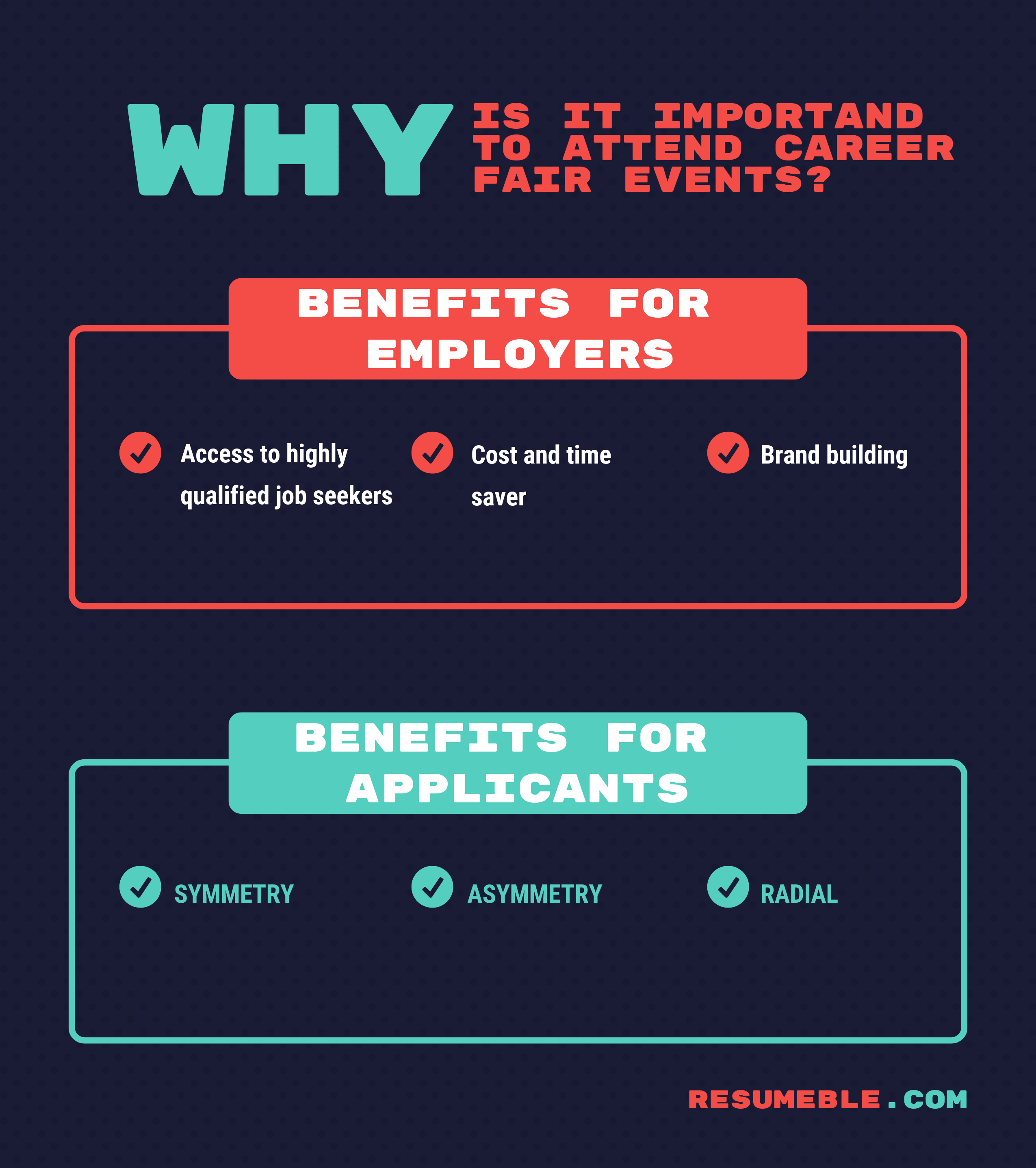 Benefits for Employers
Many businesses find it difficult to attract the ideal employees who can help the organization achieve its targets. Attending career fairs can be the solution to such a struggle. Likewise, these events also offer several other benefits for companies that join them.
1. Access to highly qualified job seekers
Career fairs expand a company's hiring pool very quickly and efficiently, allowing the business to interact with candidates from various geographical locations in a variety of disciplines. Put simply, career fairs help an organization increase the number of resumes received from potential employees who are actually qualified for the vacancies they need to fill.
2. Cost and time saver
While companies are required to pay a fee to participate in a career fair, the targeted approach afforded by these events helps them save money because they are able to find ideal candidates more quickly, as opposed to the alternative. Although posting on company websites, job boards, and other general advertising measures can also work, they often take more time. Since these services also come at a fee, the longer it takes to find the right employee, the more out-of-pocket expenses the company will have to spend. This is why career fairs are often the more cost-effective approach for recruiters, hiring managers, and organizations in general.
Likewise, applications are often fast-tracked during career showcase fairs. Job interviews can be conducted then and there, since the applicants are physically present at the event. The opportunity to meet face-to-face with applicants allows recruiters to immediately identify strong candidates. Likewise, it's also not uncommon for companies to hire applicants directly at the venue. All of these benefits amount to a lot of time saved in the hiring process.
3. Brand building
Many large companies and global brands participate in career showcase fairs, making these events a great way for an organization to associate itself with the biggest names in the business. This is especially useful for startup companies. By having your company name placed alongside established brands, you create the perception that you are just as reputable as they are.
Benefits for Applicants
While employers have plenty of reasons to attend a career showcase fair, so do job seekers. There's plenty of advantages to enjoy for applicants taking the job fair route.
1. Many opportunities, one location
With so many companies looking to hire a qualified applicant at a career fair event, your chances of walking away with a job is boosted exponentially. As long as you know where your skillsets will be complementary, have a well-crafted resume on-hand, and are well-prepared to answer interview questions, you can maximize your time and effort at the job fair even more.
2. Direct job interviews
At career showcase fairs, once you submit your resume, you'll only be counting minutes and hours for your job interview instead of the weeks and months you have to wait when you send your resume through traditional channels. If all goes well, you could get a job offer soon after your interview. On that note, make sure to pay attention to what to wear to a career fair so that you look professional and presentable when you get called in for the one-one-one.
3. Face-to-face interaction
When you attend a career showcase fair, your physical presence puts a face on your application, and this makes it easier to leave a good first impression in person. Even if the job interview will be scheduled at a future time, as long as you've managed to stand out in the recruiter's eyes, that elusive job interview is well within your grasp.
Before you head out to a career fair 2020 event, make sure your resume is up to date and up to par. Resumeble can ensure your resume is both. Have us check your resume's quality with our free, no-obligation evaluation. Send us your resume today.
-

Check Your Resume Branding

-

Learn About Main Mistakes and How to Fix Them

-

Check if Your Resume is ATS-compliant

-

Get Your Analysis within 24 Hours or Less!
Get a free resume
review
Upload Resume