TOP-8 Reasons to Hire CV Writing Service in the UAE
Not everyone is born to write, but everyone needs a good writer every now and then. This is especially true when you want a curriculum vitae (CV) that attracts the right kind of attention in the UAE job market. You may think that it's easy to pen a CV, and you could be right, but if you're not confident about your scribbling abilities, know that a CV writing service UAE exists to meet your needs and help you succeed.
Why hire a CV writing service Dubai
UAE hosts some of the most enviable work environments in the world, with people from all races and nationalities enjoying a thriving career here. This means that when you apply for work in Dubai and other emirates, you can expect to face some tough competition from a global pool of candidates. To give yourself a leg up, it can be helpful to hire a CV writing service UAE. Here are eight reasons a CV writing service Dubai can do wonders for your application.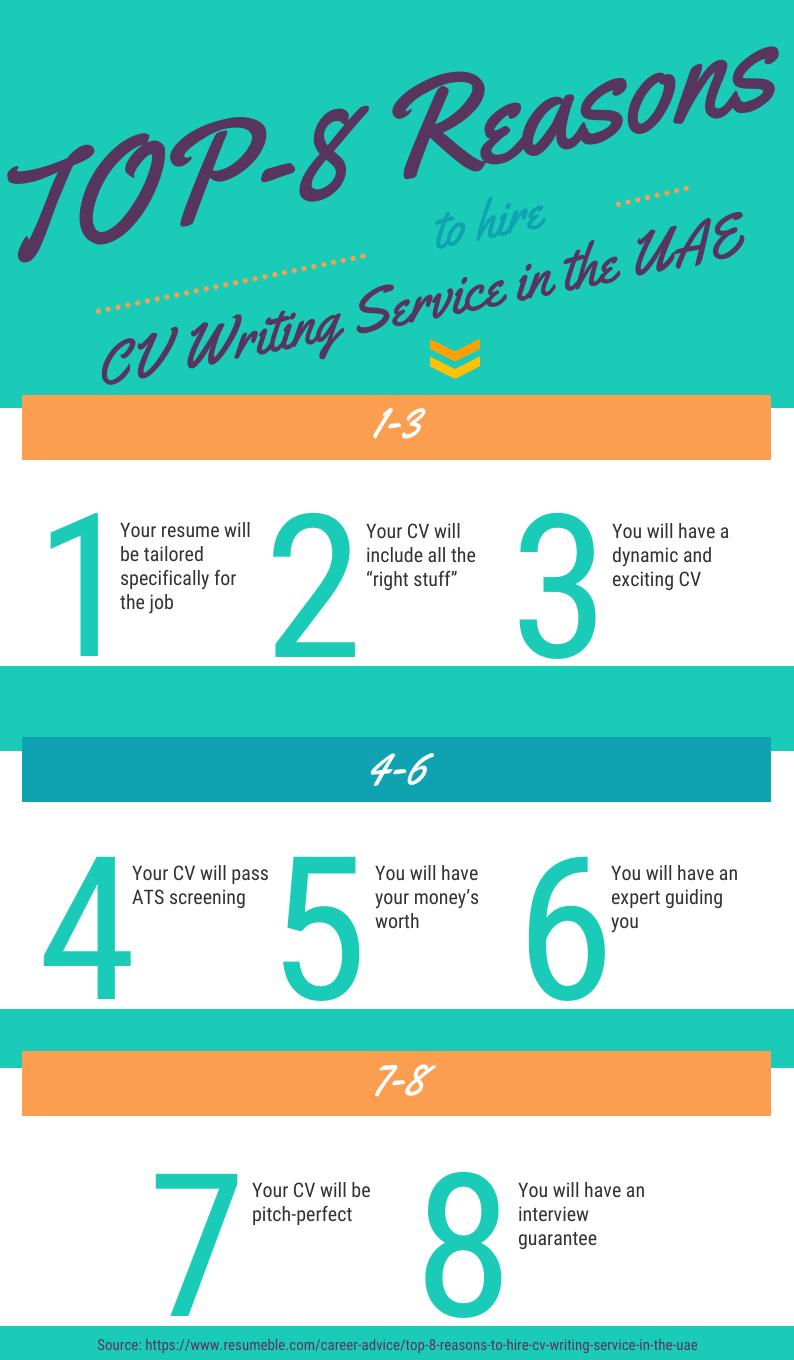 1. Your resume will be tailored specifically for the job
One of the greatest faults of applying that many potential candidate are guilty of is submitting the same CV over and over to different employers, hoping one will bite. If you're guilty of this, then perhaps the reason no one's calling you is because your resume is too generic and bland. You need a resume that speaks to recruiters and hiring managers, and this can only be achieved when the content of your CV is tailored specifically for the job and company you're sending it to. This is one area where a CV writing service UAE can be of great help.
2. Your CV will include all the "right stuff"
Which skills and experiences should you put in? Should you include your volunteer work at numerous nonprofits? Which of your achievements are the most relevant for the job? What keywords should your CV contain? Aside from being unique and wholly tailored to your needs, your professionally written CV will also benefit from an expert writer's in-depth knowledge of industrial and recruitment trends.
Different jobs require different approaches to your CV, and if you're having trouble deciding which pieces of information from your professional history are worth including in your CV, then hiring a CV writing service UAE can be the solution to your predicament.
3. You will have a dynamic and exciting CV
Studies have shown that recruiters take only an average of six seconds to deem if your CV is worth keeping or not. Therefore, your CV not only needs to communicate your value, but it needs to do so quickly. Hiring a CV writing service Dubai helps ensure that your CV will grab and hold the attention of the UAE recruiters and hiring managers who read it.
4. Your CV will pass ATS screening
An increasing number of companies in the UAE are using applicant tracking systems (ATS) to screen applications and shortlist potential candidates. Needless to say, it can be difficult to pass these automated screenings if you don't know how these systems work, but fortunately for you, you can have the expertise of a CV writing service Dubai behind you.
Primarily, ATS scans CVs for specific keywords and terms to assess if an application should be forwarded to a recruiter. However, some ATS are getting craftier and more complicated, making it even more difficult for generic and lackluster CVs to make the cut. If you haven't been receiving any response for the CV you sent out for some time now, it might be because your CV is not optimized for these systems. This makes it all the more necessary for you to work with a CV writing service Abu Dhabi to develop your job application.
5. You will have your money's worth
The cost of hiring a CV writing service in Abu Dhabi—a few hundred dollars. The cost of writing your own job application—zero. Taking these details into consideration, it's easy to see which of these choices will be appealing to most people. However, by taking the DIY route, you could end up losing money in the long run. How, you may ask?
Numerous surveys have shown that those who have their job application written by an expert CV writer are able to command higher salaries than CV do-it-yourselfers. There's also the issue of getting hired faster, since professionally written CVs are highly preferred by the UAE recruiters and hiring managers who review them.
Ultimately, it all boils down to what matters to you more. Do you prefer to save today or lose money later, or would you rather invest in your future? If you decide on the latter, then your best option is to have your application handled by the best CV writing service in UAE.
6. You will have an expert guiding you
Generally, when you hire a CV writing company, you begin the process by discussing your needs with a sales representative who will then pass the information on to one of their writers. Resumeble improves on this step by bypassing the middleman and partnering you directly with the writer in charge of developing your application. Your writer will stay in constant communication with you and keep tweaking your CV until you are fully satisfied that it can meet UAE's most stringent job application requirements.
7. Your CV will be pitch-perfect
Spelling, grammatical, and formatting errors are the bane of many CVs. Thanks to a professional CV writer's expertise, you can avoid all these pitfalls. In the end, what you get is a well-written, attractive, easy-to-read, engaging, and error-free CV that you can be proud to send to even the most demanding employers in the emirates.
8. You will have an interview guarantee
Some of the best CV writing service in Dubai are able to provide clients with an interview assurance. Resumeble's CV writing services in particular, come with an interview call guarantee within 60 days of finalizing your resume, or we will rewrite your document free of charge. You can trust us to ensure you will get one foot in the door when you have us writer your CV for you.
Are you ready to move forward with your job hunt?
Put simply, the quality of the CV that you send out to employers can never be compromised, so you shouldn't hesitate to ensure your resume becomes the best it can be. Send Resumeble your application soon for a free, no-obligation evaluation to see where your CV falls short. Let us work with you to develop a CV that truly delivers. Get in touch with us today!
-

Check Your Resume Branding

-

Learn About Main Mistakes and How to Fix Them

-

Check if Your Resume is ATS-compliant

-

Get Your Analysis within 24 Hours or Less!
Get a free resume
review
Upload Resume