Is it Worth to Hire a Canadian Resume Writing Service?
Not everyone is born a gifted writer. Fortunately, you can always hire a professional for those times when you need a well-written and error-free document. One such example is when you need to submit an effective resume to a Canadian company. While it's perfectly fine to attempt crafting your resume on your own and save some money, it might benefit you to know some of the reasons why it may be better for you to hire a Canadian resume writing service, especially if you plan to find work in a major business area like Vancouver, Toronto.
Top 3 reasons to hire a Canadian resume writing service
There's more to resume writing than just simply listing your skills and experiences. Here are three great reasons when you should seriously consider having your application professionally done.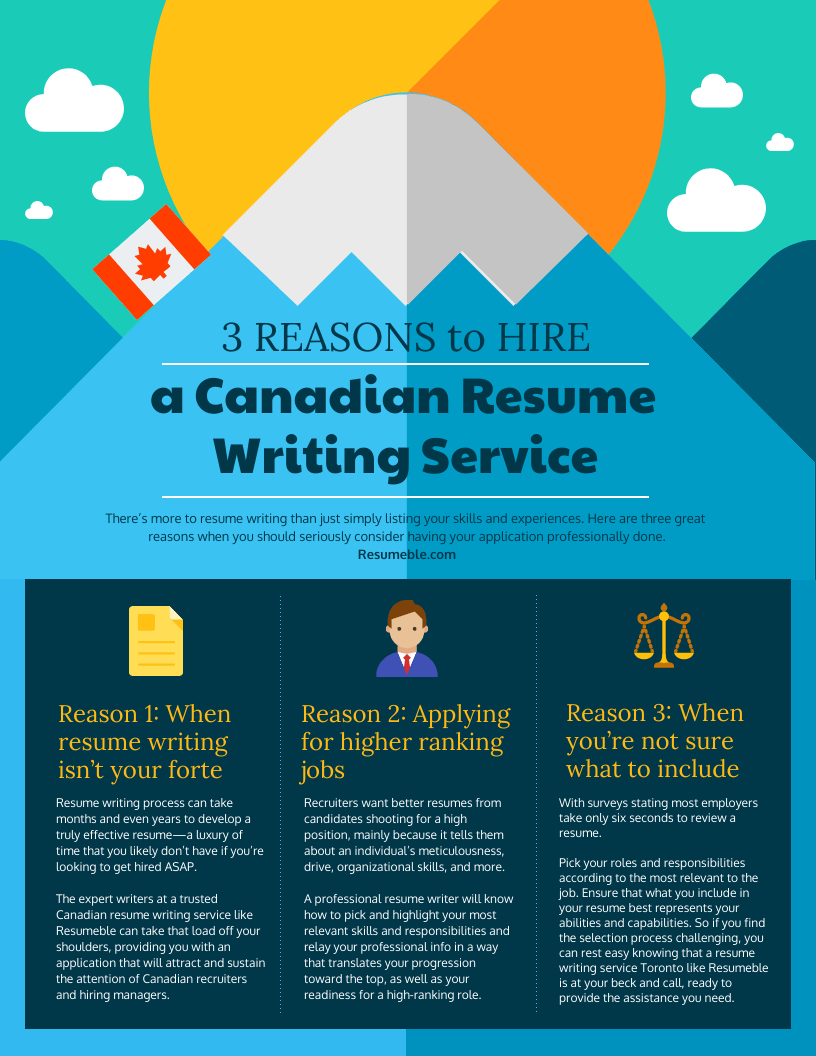 Reason 1: When resume writing isn't your forte
Resume writing is an entirely unique form of writing, requiring special skills and knowledge that are completely different from writing per se. It can take months and even years to develop a truly effective resume—a luxury of time that you likely don't have if you're looking to get hired ASAP.
The expert writers at a trusted Canadian resume writing service like Resumeble can take that load off your shoulders, providing you with an application that will attract and sustain the attention of Canadian recruiters and hiring managers.
Reason 2: When you're applying for higher ranking jobs
Applying for a plum role is another excellent reason you're going to need a Canadian resume writing service. Recruiters want better resumes from candidates shooting for a high position, mainly because it tells them about an individual's meticulousness, drive, organizational skills, and more.
A professional resume writer will know how to pick and highlight your most relevant skills and responsibilities and relay your professional info in a way that translates your progression toward the top, as well as your readiness for a high-ranking role.
Reason 3: When you're not sure what to include
You may think that cramming every job you've ever had into your resume will be a boon to your application, and you'd be wrong. With surveys stating most employers take only six seconds to review a resume, a lengthy application may hinder instead of help your chances of getting hired quickly.
What you need to do is pick your roles and responsibilities according to the most relevant to the job. You also need to ensure that what you include in your resume best represents your abilities and capabilities. This is easier said than done, so if you find the selection process challenging, you can rest easy knowing that a resume writing service Toronto like Resumeble is at your beck and call, ready to provide the assistance you need.
Benefits of hiring a resume service Vancouver
You may be wondering why it costs so much to have a professional writer work on your resume. The phrase "you get what you pay for" applies here. Below are some of the biggest benefits of a resume writing service Vancouver to help you decide if it is the best choice for you.
Benefit 1: Your resume will be tailored to the job
If you've been sending the same resume to different Canadian employers, then perhaps the reason you're not being called for an interview is that your application looks too generic and doesn't offer much info. You want your resume to speak directly to the reader and contain valuable information about your professional capabilities. A top-caliber resume service Vancouver like Resumeble can make this happen for you.
Benefit 2: Your resume will pass ATS screening
Applicant tracking systems (ATS) are automated tools used by many Canadian companies to screen resumes and deem them worthy of reaching a recruiter's table. It will be next to impossible for you to pass these systems if you don't know how ATSs work, but with the help of a resume service Vancouver, you practically won't have to worry about them anymore.
Benefit 3: Your resume will entice and engage readers
Securing an interview takes more than just passing ATS screening—you also need to ensure your resume will capture a Canadian recruiter's attention. With the help of a professional resume service Vancouver, you'll have peace of mind knowing that you will have a dynamic and exciting resume that will make recruiters feel compelled to call you.
Benefit 4: You will earn more
Multiple surveys show that those who choose to have their application done by a bona fide resume writer are able to attract bigger salaries than those who write their resumes on their own—up to 7 percent more, according to some studies.
Not only that, but using a resume service Vancouver can also position you for bigger opportunities that can result in landing a job with better benefits, a more prestigious employer, or even a higher job position than the one you applied for. In addition, you'll also have more leverage to negotiate a bigger salary.
Ready to take your resume to the next level?
Now that you know the reasons and benefits of obtaining the services of a professional resume writer, perhaps you have some queries that relate to hiring a resume service Toronto. Here are a few of the most frequently asked questions on the topic that can help you decide if having your resume written by an expert is the right move for you.
Question 1: Is there any guarantee to hiring a resume service Toronto?
While no resume service Toronto can assure you that you'll get hired by using their products, Resumeble provides clients with an assurance of a job interview within 60 days of finalizing the resume, or we will rewrite it free of charge. This guarantee ensures that you will get one foot in the door, and along with it, your money's worth.
Question 2: How long will it take for a professional resume writer to complete my application?
As a trusted resume service Toronto, Resumeble's writers usually take around five to seven calendar days to complete an order. We offer three packages for you to choose from, and below is a list, along with their corresponding pricing and what they include:
Career Pro Package – USD 149.00
• Professional Resume
• Cover Letter Writing
Professional – USD 229.00
• Professional Resume
• Cover Letter Writing
• LinkedIn Write-up
Premium – USD 339.00
• Professional Resume
• Cover Letter Writing
• LinkedIn Write-up
• Second Resume Version
• Thank you/Follow up Note(s)
• Cold Email to Recruiters
After you've decided which one of our packages to use, you will have an assigned writer working with you one-on-one from beginning to completion. You can expect the first draft of your resume from our Canada resume writing service within three to four calendar days, and the final version two to three days later.
Contact Resumeble today
The quality of your resume is one of the most important considerations in your job search, so you shouldn't hesitate to ensure your resume is the best it can be. As a high-quality Vancouver resume service, feel free to send Resumeble your resume today for a free, no-obligation evaluation. Better yet, choose one of our packages, and let's get started on boosting your career today.
-

Check Your Resume Branding

-

Learn About Main Mistakes and How to Fix Them

-

Check if Your Resume is ATS-compliant

-

Get Your Analysis within 24 Hours or Less!
Get a free resume
review
Upload Resume