​The Ultimate Guide on How to Get A Job in Canada
So you have decided to settle in Canada. Congratulations!
Now the next step is to get a job with a Canadian employer. The process for getting employed in Canada is nearly the same as other countries. But are you aware of the critical points to keep in mind that are unique to Canada? The most important factor is obviously your resume as per Canadian standards along with a good cover letter.
The following discussion will help you gain clarity on the steps you need to take to become a Canadian employee if you are not from Canada. You'll also learn the tips and tricks to boost your chances significantly and get a guaranteed interview call in 30 days!
Make sure you read this till the end.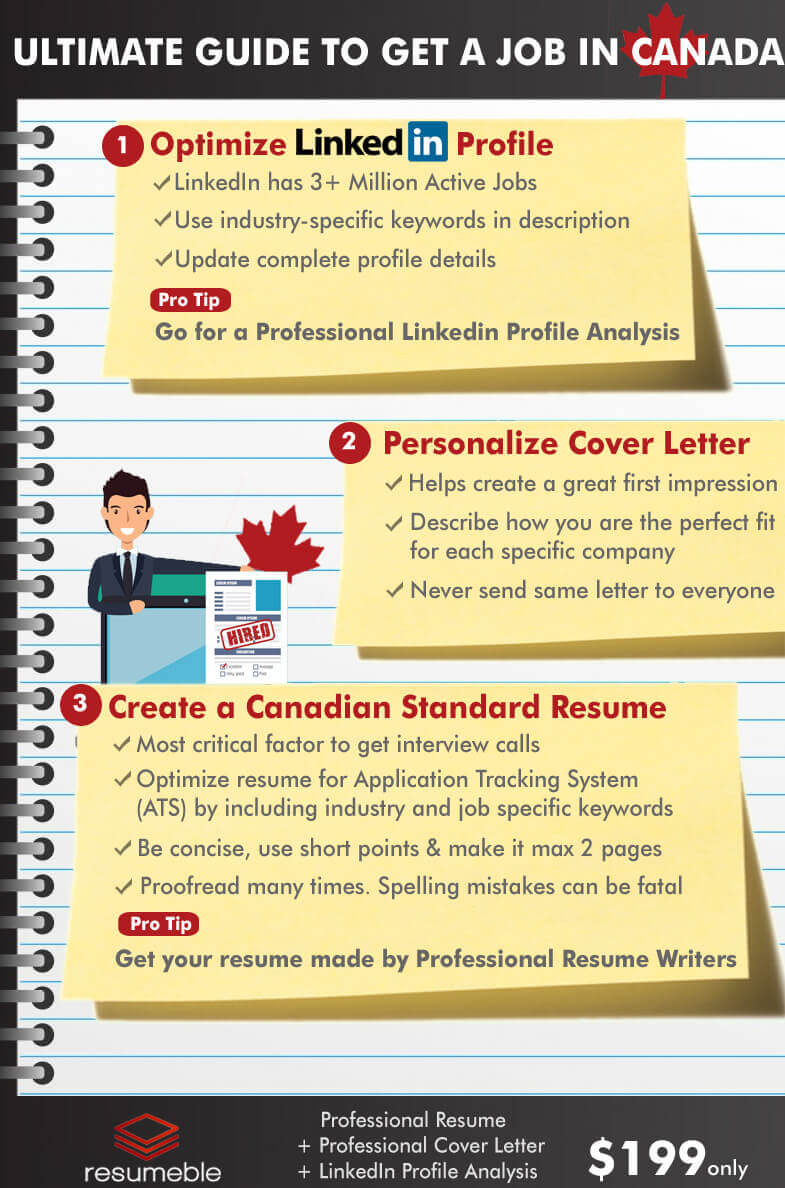 Search for jobs in Canada
The rise of the internet has eased the process of job hunting to a great degree. You can start searching for jobs in the following ways:
LinkedIn: LinkedIn has 3 million active job listings on the platform in 2018! It has fast emerged as the preferred platform for employers to hire the right talent for their companies. Your first step should be to create a compelling LinkedIn profile and start looking for companies in your area of expertise. Find out if they have any vacant positions that you can apply for. Make sure you have filled your profile details completely and accurately. Add skills, certifications, work experience, and a profile summary in as much depth as possible. Optimize your LinkedIn profile with industry-specific keywords that best describe your job. It's advisable to contact a LinkedIn Profile Expert if you don't want to take chances with an unoptimized profile.
Job Portals and HR Agencies: Job portals are still a great medium to look out for prospective companies in most countries, including Canada. Try to register on several job portals that have job postings from Canada. Browse these portals for finding relevant employers in your industry. Job Bank in Canada is run by the Department of Employment and Social Development (ESDC) and receives more than 2,000 new job posts on a daily basis. Besides, you can also get in touch with HR Agencies based in Canada to look for a job for you on your behalf.
Company Websites: Apart from searching for potential employers on LinkedIn, you can directly search for companies with vacant jobs in Canada that belong to your industry. Although this step is a bit unorthodox and the chances of getting a call for interview are fairly low, it's still worth a try. Thoroughly research these companies' websites to learn about them and whether they have any positions waiting to be filled. You can also contact them through an email or contact form or straight-up phone call. Confidence is the key here, and sometimes it may get you in touch with a senior decision maker.
Friends, Family and Other References: One of the most effective ways to get a job in Canada is through referrals. Companies highly prefer candidates that have been referred to them from a trustworthy source. Many positions that get filled even before a vacancy is advertised because they have already received referrals for the right candidates. Moreover, a lot of companies hire only on a referral basis from one of their employees. It's advised to get in touch with friends, family members, college alumni, professors or any other people you know regarding your job hunt. Chances are high that someone might know something interesting that may help you out in your search.
Apply for Jobs in Canada


Searching for job vacancies is only the tip of the iceberg when it comes to job hunting. Once you have come up with a list of job opportunities that interest you, IT'S TIME TO APPLY!
To apply for jobs, you'll require the following documents:
Cover Letter: It is simply a short description that states why you are the right fit for that particular job vacancy. Many aspirants ignore the importance of cover letter and sabotage their chances of getting selected.
Most companies consider the cover letter to be even more important than your resume; that's why a cover letter is the first thing that they see in your application. In a way, the cover letter is the document that creates your first impression on the hiring team. And if your first impression is poor, there is no chance for you to get even shortlisted. This is because the cover letter allows them to get to know you in detail as well as evaluate whether you are a good fit for their company.
But if you are sending the same generic cover letter with every other job application, you would never be able to convey what specific skills, achievements and experience you have that make you the perfect fit for that particular company. The result is that you are automatically out of the candidacy race, and no one will ever even see your resume; Let alone shortlist you. So, take sufficient time to study each company's business, their team, their clients and every small detail about their work and ethics, as well as the job description.
Then write your cover letter using the information that you have gathered. And always address the cover letter to the person responsible for hiring instead of "Dear Sir/Maám". Remember: make your cover letter as personal and customized as possible for every company that you apply for.
Résumé or Curriculum Vitae (C.V.): Resume is a list of your qualifications, skills, achievements and work experience to date. But a good resume is even able to convey what your potential is in the future and how well you can benefit the company that hires you.
Here are certain Do's and Don'ts for creating the perfect resume for jobs in Canada:
Resume Writing Do's
1. Be specific and concise. Your resume should not be more than two pages long. Use short bullet points to describe your work.
2. Include industry-specific keywords that aptly describe your work experience. Many organizations use an ATS (Application Tracking System) to shortlist candidates out of hundreds of applications. If you are not using such words, you may not get selected even though you have the right credentials and experience.
3. Put effort into formatting the document. Make sure people can read it at a glance. Also, resumes with proper formatting look more professional.
4. Customize. Modify your resume per the company to which you are applying.
5. Use Data and Numbers. Always try to quantify your achievements using percentages and numbers. For example, "Increased monthly sales by 12% in 6 months."
6. Keep the language simple yet powerful. Confusing words and industry jargon may not be able to convey your thoughts accurately to the reader. Also, try to use action verbs like "increased", "led", "managed" etc. If possible, start your work experience bullet points with these verbs.
7. Proofread Multiple Times. Apart from proofreading yourselves, share it with friends and family for their opinion. Grammatical and spelling mistakes are unforgivable in a resume.
8. Keep the resume updated. Try to include the latest information about you in the resume.
9. Include Contact Information. Share a professional email address for contacting you. Phone number is optional.
Resume Writing Don'ts
1. Don't list work experience that is unrelated to the job profile you are applying for
2. Don't include your picture on the resume
3. Don't include your Social Insurance Number (SIN), or any other unrelated personal details like height, weight, marital status etc.
4. Don't include hobbies and interests unless they are related to the job profile
5. Don't be dishonest at all in specifying your information. You may get blacklisted from applying at every other company.
Prepare For An Interview: If you have diligently followed the steps mentioned above and are consistently applying for jobs, chances are you may land an interview fast.
Getting shortlisted for an interview means that the hiring committee believes you might have the right potential for becoming a part of their organization. Now you just need to convince them that you are the best choice for them out of all the other shortlisted candidates.
Check out these posts on our blog to crack that interview:
More Interview Tips.
How to Boost Your Chances
Besides implementing the steps mentioned in the above sections, there are specific additional steps you can take to further boost your chances of getting a job in Canada.
Get a Professionally-made Resume, Cover Letter and LinkedIn Profile: As discussed earlier, your cover letter, resume and LinkedIn Profile are three critical assets that you have in your pursuit for a Canadian job.
You can't afford to slack in preparing these documents in the best possible way. Moreover, they should be personalized for each job that you apply for and must be optimized to contain industry-specific keywords. Without this, your application would not be able to clear the ATS (Application Tracking System) and you might not land even a single interview call. If you don't want to take chances, go for a professional resume writing service. At Resumeble, we are committed to preparing the perfect resume and cover letter for you that will fetch you a guaranteed interview call in 30 days.
That's not all, our expert team will analyze your LinkedIn profile and provide you with suggestions to optimize it - free of cost! You can avail our Professional Package for expert resume writing here.
Stay Fresh: No, we don't mean that you should take a shower multiple times in a day.
Job portals tend to promote the profile of active candidates on the top. So, if you don't seem to be active on their interface, they'll automatically assume that you are not interested in a job anymore. And if your profile doesn't show up on top, employers might easily ignore you.
The solution is to keep updating your resume and cover letter in your profile. Even if you don't have any significant changes, adjust a few small words here and there without changing the meaning. This way your profile will never be pushed down in results.
Network, Network, Network: Not all jobs are advertised on portals or LinkedIn. You must try to leverage and grow your professional network to learn about such opportunities and get a shot at applying on them.
Build Some Volunteer Experience in Canada: Canadian companies highly value volunteer experience, especially if it is in Canada. You must mention your volunteer experience in your resume to get an advantage over other candidates.
Working as a volunteer in Canada is beneficial for a lot of other reasons too:
- You get to have the experience of working in Canada. It doesn't matter if it's unpaid.
- You get to develop your language and communication skills in English as well as French.
- You get to know Canadians, make new friends and grow your network. They can also act as references for your job application.
- It will give a positive sign to the employers that you are dedicated and willing to work hard.
Just search "volunteer" followed by the city name in which you want to do volunteer work on Google or any other search engine to learn about opportunities and apply. You can also visit the Volunteer Canada website for the same.
Enroll in Bridging Programs: Canada has several bridging programs that can help you to get a job in your field in Canada. With the help of these programs, you can get a license or certification and seamlessly integrate into the Canadian workplace. As part of these programs, you can undertake various courses, skill assessments, workplace experience, prepare for certificates, language training and more.
Canada has emerged as the ideal destination to work and live in. Thanks to Canada's high quality of life, liberal culture, helpful people and a vast pool of opportunities. So, moving to Canada and starting a new life can be a major turning point in your life. To fulfill your dream, it is vital that you become an integral part of the Canadian workforce by getting a decent job. Just keep in mind the steps discussed in this article, and you are good to go.

Best of luck on your journey towards success!
-

Check Your Resume Branding

-

Learn About Main Mistakes and How to Fix Them

-

Check if Your Resume is ATS-compliant

-

Get Your Analysis within 24 Hours or Less!
Get a free resume
review
Upload Resume