Resume Writing Guidelines for 2021 from Resumeble
As a true art form, resume writing is an evolving process that follows the trends of the times. And like any trend, those that fail to keep up with what's current will find themselves left behind. With that in mind, Resumeble gives you the resume writing guidelines for 2021 that you need to follow in order to stay ahead of the curve—and the competition.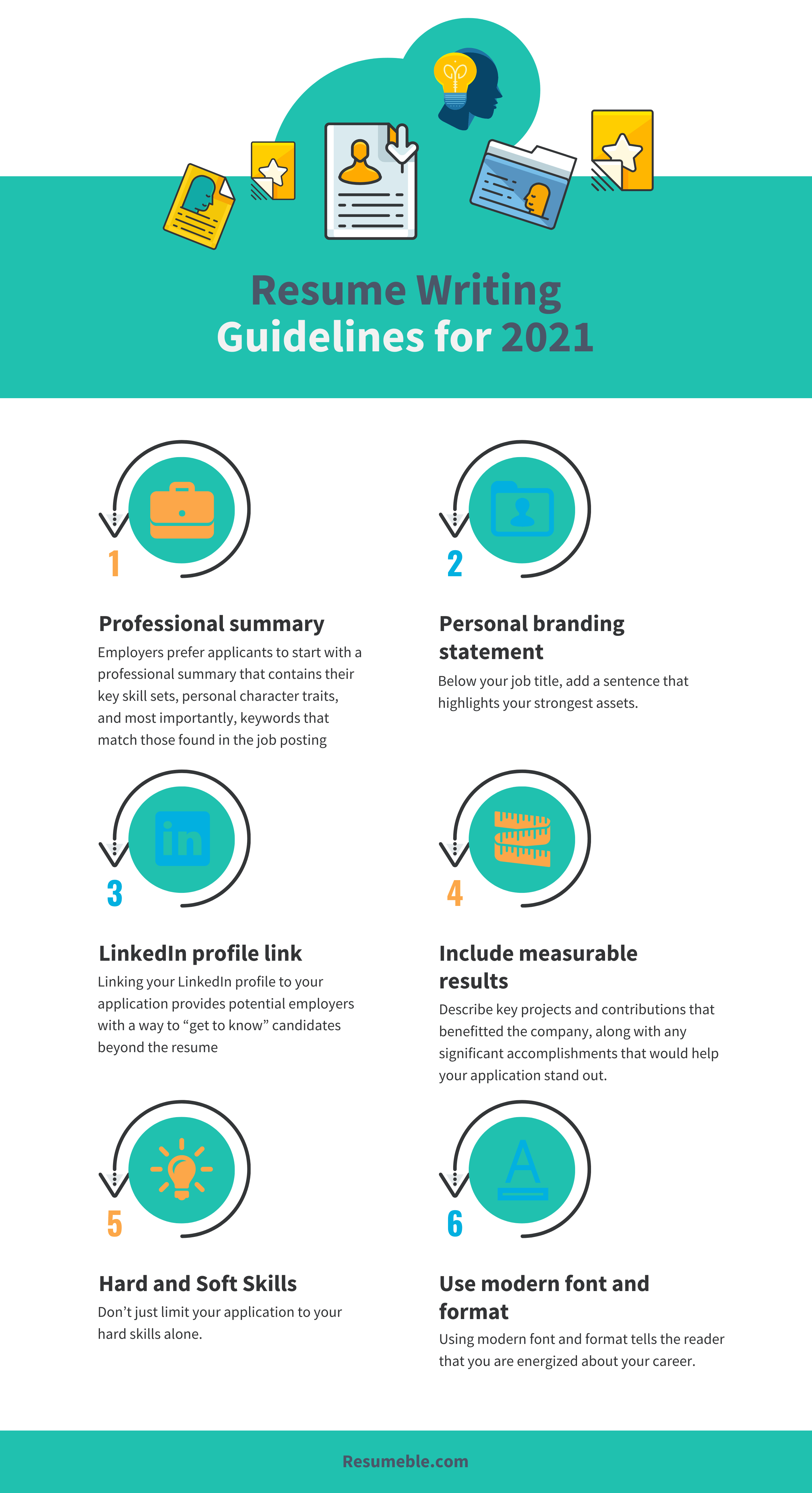 Use a professional summary
Applicants used to open their resumes with a career objective, which is widely considered passé. Today, employers prefer applicants to start with a professional summary that contains their key skill sets, personal character traits, and most importantly, keywords that match those found in the job posting. When building your professional summary, use your biggest achievements to attract the reader's attention, then keep them interested by laying out your goals not only for your career but for the company as well.
Have a personal branding statement
As per resume writing guidelines for 2021, the generic resume no longer works. Not to mention, most recruiters and hiring managers are wary of them. Nowadays, taking a personal and targeted approach to resume writing is not only smart but critical.
One of the most effective ways to do this is with a field-specific branding statement. Below your job title, add a sentence that highlights your strongest assets. For example, if you work as Certified Public Accountant, a good branding statement would be, "I have a proven track record of leadership, business development, operational planning, and more. I help businesses turn their fortunes around."
Here's a sample branding statement for teachers and educators: "A dedicated mentor, I strive to make learning accessible and engaging for all my students."
Add a LinkedIn profile link
As the preferred platform for brands and organizations to engage with a professional demographic, it is now considered a huge mistake for job hunters to not have a LinkedIn profile link on their application. In fact, not being on LinkedIn altogether tells recruiters that you are woefully out of touch with the times.
Linking your LinkedIn profile to your application provides potential employers with a way to "get to know" candidates beyond the resume. Expect them to go through your content to see if your skills and professionalism reflect in them. Likewise, they will also look for questionable content to see if you're involved in any issue that may put their branding at risk. For resume writing 2021, make sure you keep your LinkedIn updated and professional. Avoid sharing offensive and risqué jokes and anecdotes that could put your application in jeopardy.
Include measurable results
The resumes of old merely consisted of career information relating to job history, responsibilities, educational background, and the like. However, today's organizations want more from applicants. Instead of just listing down your responsibilities, describe key projects and contributions that benefitted the company, along with any significant accomplishments that would help your application stand out. Quantify measurable achievements, such as dollars you helped the company saved, improvements that you've delivered, or performance targets that you've exceeded.
Incorporate both hard and soft skills
More and more companies favor well-rounded employees, so here's one of the more important resume writing guidelines for 2021: don't just limit your application to your hard skills alone. Try to incorporate some of your relevant soft skills as well. To effectively and strategically include soft skills into your application, you can use the ones mentioned in the job posting, then cite specific examples of how you put them to good use. Here's how to phrase your soft skills on your document:
Communication skills – reached out to clients during a misunderstanding and effectively strengthened the business relationship
Team player – worked collaboratively on various projects with different departments to ensure deadlines are met consistently
Self-management – able to complete tasks and hit targets, delivering quality work on time with minimal supervision
Use modern font and format
If you still have Times New Roman as your font, don't even think about sending out that resume. Using modern font and format not only presents your skills and experience in a current and contemporary style but also tells the reader that you are energized about your career. Some of the best modern fonts to use on your resume include Calibri, Cambria, Helvetica, and Garamond. With regards to format, make sure you list your work experience in reverse chronological order, beginning with your most recent position. Try to strike a good balance between white space and print to create an impression of orderliness and organization, and use sections to categorize details and information.
Want more resume writing tips 2021?
As a professional resume writing service, Resumeble has plenty of other writing tips for your application to stand out this year. Feel free to browse through our website for more articles relating to resume writing tips 2021. Better yet, send us your document for a free, no-obligation evaluation, and let's get you started on your way to getting hired.
-

Check Your Resume Branding

-

Learn About Main Mistakes and How to Fix Them

-

Check if Your Resume is ATS-compliant

-

Get Your Analysis within 24 Hours or Less!
Get a free resume
review
Upload Resume