Overview of the Cannabis Industry: Challenges, Growth Potential, and Career Opportunities
At Resumeble, we play close attention to growing trends in the global job market, and what's happening right now in the cannabis industry hasn't escaped our attention. Cannabis is enjoying unprecedented acceptance, not only in the United States, but also in other parts of the world including Canada, Europe, Australia, South America, and even parts of Asia. Indeed, the past few years have been huge for the legal cannabis industry. In just a short amount of time, many cannabis startups saw their businesses rise to stratospheric heights, with some even finding large-scale investors willing to put money towards aggressive expansion. A new era of commercialism and capitalism pervaded in an industry once thought taboo, and many stalwarts are reaping the benefits.

With the unprecedented growth, however, came the arrival of new challenges that the budding (pun intended) cannabis industry was widely unprepared for. Below, is the list of three of the biggest obstacles that currently plague the industry as we know it. In addition, we also offer some insights into how these can be addressed.
High turnover rate
In the US, the speedy and massive growth of legal cannabis is dwarfing many other industries, especially in the area of job creation. According to Leafly's 2020 cannabis jobs count, the US cannabis sector supported 243,700 full-time-equivalent jobs early in 2020, with around 33,700 of said jobs representing a 15 percent increase over the course of the year.
However, this good news is offset by excessively high turnover rates, with an average of 40 percent to 60 percent of employees leaving within the first two months alone. Contrast this with the three months it usually takes for a new employee to fully settle in the job, and one begins to see a picture of the serious employment problems that many cannabis businesses face.
High turnover results in substantial unnecessary costs for any business. The Center for American Progress estimates that replacing an employee can cost around 21 percent to as high as 213 percent of an employee's annual salary, depending on the income bracket that the employee in question belongs to. When these costs aren't accounted for, they will eventually lead to uncontrollable profit loss.
What cannabis employers can do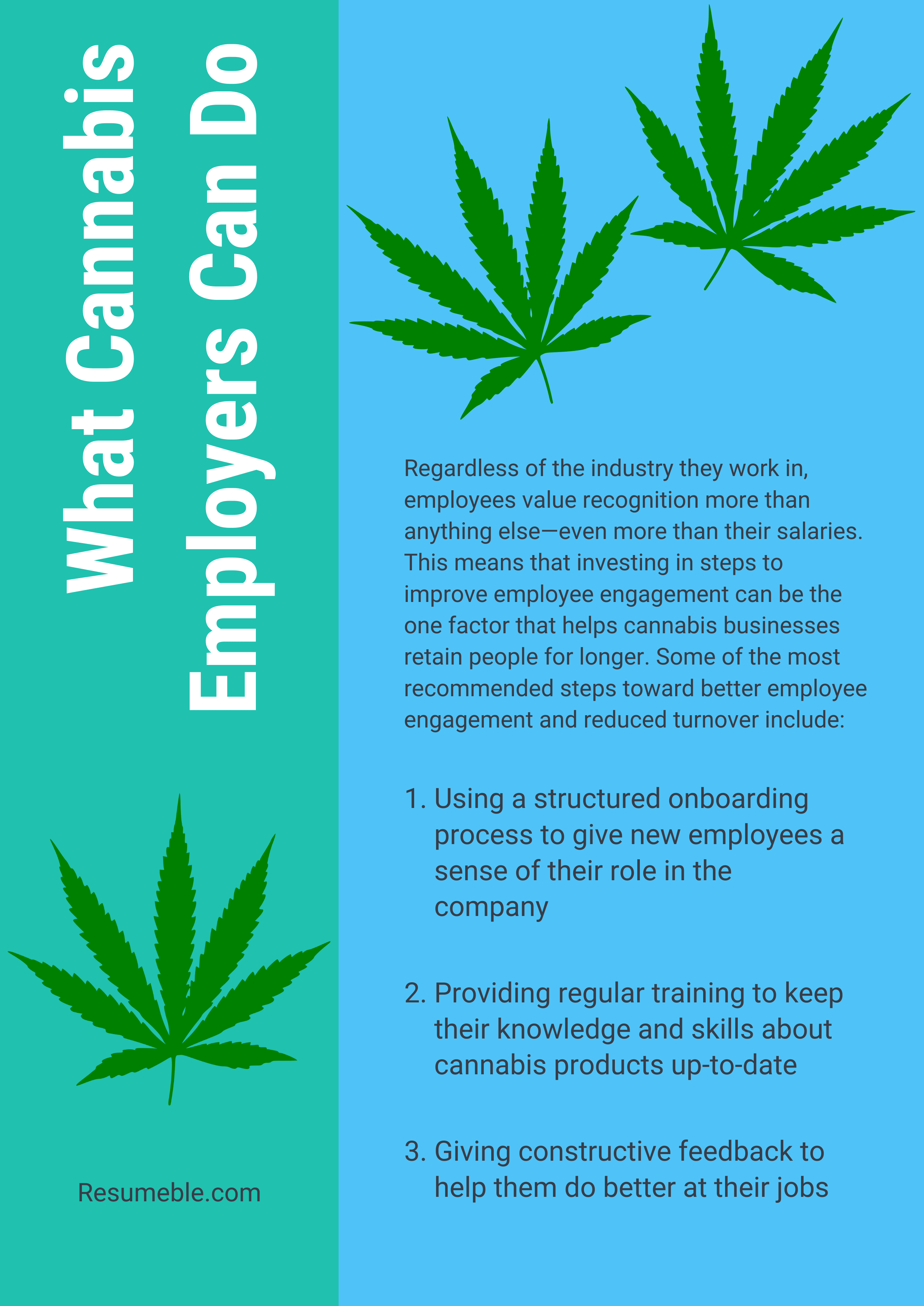 Regardless of the industry they work in, employees value recognition more than anything else—even more than their salaries. This means that investing in steps to improve employee engagement can be the one factor that helps cannabis businesses retain people for longer. Some of the most recommended steps toward better employee engagement and reduced turnover include:
Using a structured onboarding process to give new employees a sense of their role in the company
Providing regular training to keep their knowledge and skills about cannabis products up-to-date
Giving constructive feedback to help them do better at their jobs
Ultimately, a cannabis employer's goal is to keep workers happy. Happy employees lead to happy customers, and that can only be good for business.
The stigma
Cannabis is still widely illegal in Australasia. That said, countries like Thailand, South Korea and Australia have already approved its medical use. In fact, Australia has been at the forefront of medical cannabis's research and commercialization. It's also worth noting that some countries in the region, like Laos and Cambodia, don't really enforce laws against its use in public.
However, acceptance is one thing, integration another. Despite Australasians having a more widespread understanding of cannabis's benefits, a stigma continues to surround it and its users, more so the people who want to work in a legal cannabis business.
"I think people are still potentially concerned that moving into the cannabis sector could be kind of 'career suicide,' that if they were to move to the cannabis sector and wanted to go back to a different, more traditional sector, that that might be hard for them to do because of the stigma," said Alison McMahon, chief executive officer at cannabisatwork.com, a human resource agency that exclusively works on staffing cannabis businesses and providers.
Another ill effect of the cannabis stigma is that many banks and lending institutions are hesitant to finance cannabis-based businesses. Even in countries like the US where cannabis has been legalized both for medicinal and recreational use, its continued classification as an illegal substance practically ensures that the banking aspect of cannabis will constantly be the elephant in the room that prevents the industry from being able to access traditional financing methods. Case in point: survey reveals that less than 4 percent of lending institutions across the US are willing to bankroll a cannabis business.
What cannabis businesses can do
Eliminating the stigma behind cannabis starts with a discussion to help people understand the health-improving effects of this natural plant. That discussion should start with people who have personally benefitted from the use of cannabis. For cannabis owners, it can help to bring these 'beneficiaries' in to have a discussion with new employees to open their mind, or at least see the importance of their job. The goal is to turn your employees into advocates themselves. By having employees as your own brand advocates, you directly address any stigma they may feel about your product.
As for the banking aspect, the best thing to do would be to seek out lenders willing to invest in the cannabis industry. Sites such as Cannabis Credit Lines, Ganjapreneur, and Lender420 are great places to start this search.
Market volatility
Owing to the fact that it is relatively in its infancy, the cannabis industry is far from being fully realized, and remains largely turbulent. Oversaturation of markets, constant issues in tax structure, and black market competition—these are just some of the issues that contribute to instability in the legal cannabis industry, and small growers and retailers are the ones severely impacted by them.
Add to that the lack of sophistication in business operations, with many growers still thinking all that's required for their business to thrive is have a few pants under LED lights. Oftentimes, this means that a grower's product runs afoul of regulations, which can lead to insurmountable obstacles for producers. Likewise, most of the new investors have no experience running a cannabis company, so the impact of their decisions are rarely understood by stakeholders as well as they could be.
What cannabis companies can do:
All of these concerns can be attributed to the cannabis industry's immaturity. As a cannabis business owner, user, or someone who's involved in the industry in another way, there's very little you can do on your own, but you can always find strength in numbers as they say, so you need to throw your support toward campaigns and initiatives that seek to help shape the cannabis industry as we know it today. Keep yourself updated on the latest trends. Attend cannabis conventions and events. Help fund medical cannabis initiatives that improve the education and protect the rights of patients to accessibility. Promote efforts that help assure consumers that they are purchasing safe and effective products.
A final way to help the cannabis market mature is to increase the areas where positive cannabis usage is practiced. If alcohol is any indication, legalization is an effective way towards wider acceptance.
On the issue of improving systems and technologies, cannabis business owners need to accept that technology is their best tool for growth, and they should learn to apply it in most if not every aspect of business, from the cultivation and manufacture of cannabis, on to its retail and distribution. A few great resource examples for learning about cannabis business technologies include Cannabis Tech, Cannabis Business Daily, and Cannatech Today.
Growth potential of the legal cannabis industry
According to a recent report by Grand View Research, Inc., the global cannabis industry will be worth $73.6 billion by 2027, posting a compound annual growth rate (CAGR) of 18.1 percent within the forecast period. This growth will be driven primarily by increasing legalization for medical as well as recreational use. That said, medical cannabis remains the largest market for cannabis, securing a 71 percent share of the market in 2019.
In 2019, North America held the largest revenue share of the cannabis market worldwide, taking 88.4 percent of the profit pie. The easing of government regulations and restrictions on the drug, as well as the growing movement for legalization in many states, are two of the main reasons cited for this.
The remaining 11.6 percent is shared between the legal cannabis markets found in Canada, and other North American territories such as Belize and Jamaica, as well as countries in Europe, South America, and Australasia.
The continuing legalization of medical cannabis in many countries and territories is expected to sustain growth and create many opportunities for profit for market stakeholders.
Where to find cannabis jobs
Like any other industry, cannabis offers plenty of career opportunities for professional growth and profit. That said, depending on the country you choose to work in, you may need to obtain a permit from the local government before you are allowed to handle cannabis products. Here are some of the most popular job boards for those who want to pursue a lucrative career in this fast-rising market.
Hempstaff.com
Hempstaff is cannabis recruitment and educational company. This means that aside from serving the staffing needs of cannabis businesses, Hempstaff also provides helpful and accurate information about the legal medical cannabis industry as a way to combat the stigma surrounding cannabis and its use.
Find jobs at hempstaff.com
Blume Jobs
Blume Jobs has a very enticing slogan: "We won't just hire candidates for the sake of it - we want to see businesses succeed." Describing itself as a "Nimble & Fast Acting Recruitment Consultancy," Blume Jobs equips its partner cannabis companies with the skilled and talented workforce they need to meet capital objectives and ensure medical cannabis products reach their intended customers.
Find jobs at blumejobs.com
Handpicked Jobs
Handpicked Jobs is a cannabis company staffing firm that focuses its efforts on UK and Europe. Its website serves all types of cannabis jobs including cultivation, sale, distribution, etc. Founded by seasoned recruiter and tech business expert George Vincent, the cannabis staffing platform managed to attract 12,500 job applicants in the first four months alone.
Cannabis At Work
Cannabis At Work serves the human capital needs of Canada's cannabis network, providing recruitment services and HR consulting, among others. Its in-house cannabis experts also write about cannabis industry trends, and often share their expertise at cannabis-related events.
Find jobs at cannabisatwork.com
We hope you find these helpful, and if you need a resume to join the industry, review our resume writing packages or drop us an email at [email protected]!
-

Check Your Resume Branding

-

Learn About Main Mistakes and How to Fix Them

-

Check if Your Resume is ATS-compliant

-

Get Your Analysis within 24 Hours or Less!
Get a free resume
review
Upload Resume