How to Write an Australian-style Resume?
Like most countries, Australia has its own unique work culture, and along with it, a specific set of guidelines for resume writing.
If you're looking for work in the Land Down Under, you need to make sure that the resume you send to employers there meet their expectations in terms of format, content and style. The tips below should help you craft a resume that observes Australian employer requirements and impress them into scheduling an interview with you.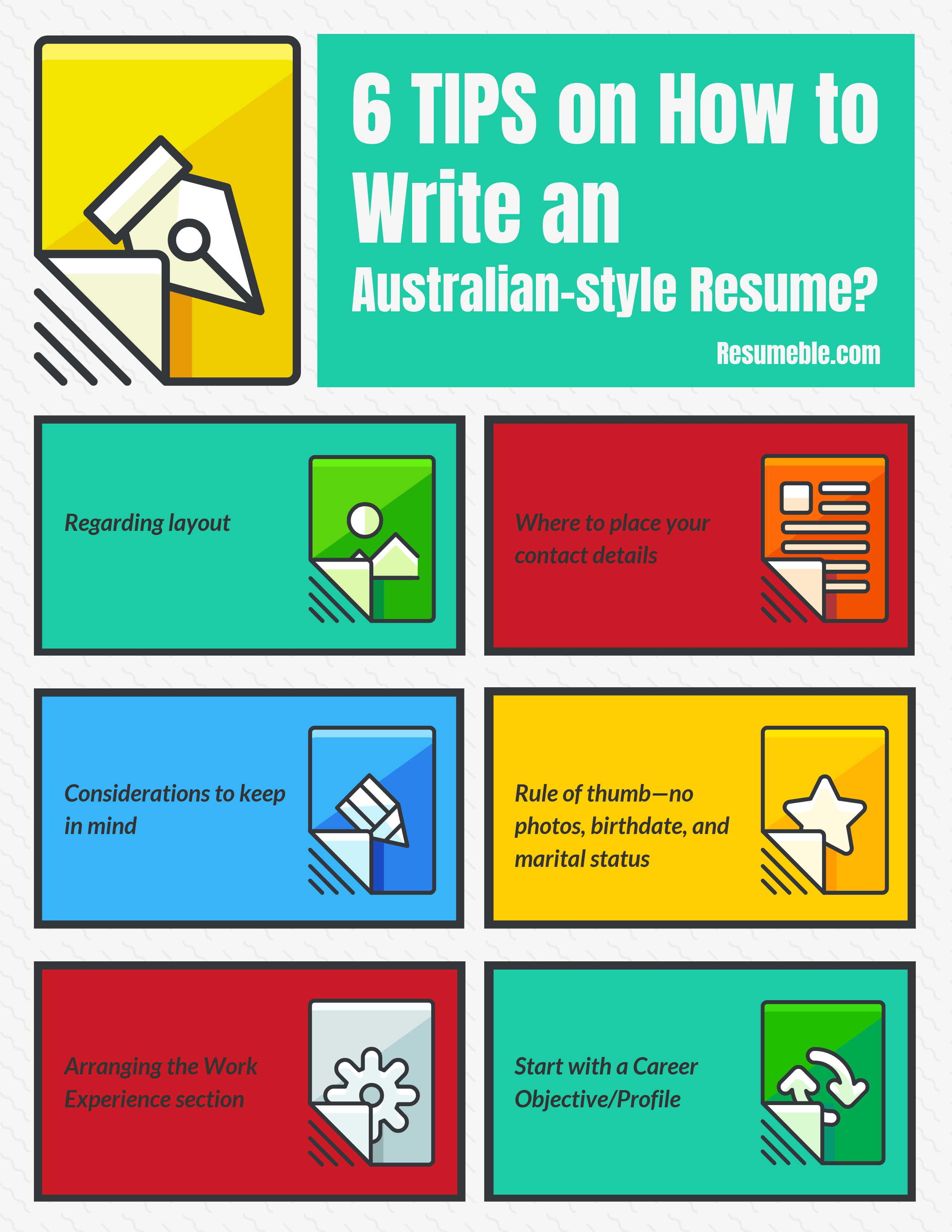 Considerations to keep in mind
It's worth noting that Australians use the terms 'resume' and 'CV (curriculum vitae)' interchangeably, so when an Australian employer asks you to submit one or the other, it basically means the same thing. It's also perfectly fine to have as many as four pages of resume, especially if you're an experienced professional. And always use Australian/British English (e.g. colour instead of color, organise instead of organize) when writing your Australian style resume. Now that you know the basic rules of Australian resume writing, it's time to dive into the specifics.
Where to place your contact details
Place your contact details (name, address, mobile number, email address, LinkedIn address) at the center top portion of your Australian resume. If you're making more than a one-page resume, use your contact details as a sort of heading for each page as a precaution in case the pages get separated. And make sure you use a formal-sounding email address. That informal college email you created as a joke just won't cut it.
Rule of thumb—no photos, birthdate, and marital status
By default, an Australian resume or CV should be submitted sans photo. That said, some employers do require it, so be sure to do your research and find out if the organization you're applying to expects a photo or not. If required, make sure to check if they have any special preferences with regards to size, background color, etc.
Likewise, you are not obligated to include your birth date or marital status in an Australian resume. However, if you think it will be useful to the position and help you stand out, there's no law that keeps you from displaying either or both information on your resume. If you decide to do so, the best place to put them is along with your contact details.
Start with a Career Objective/Profile
A Career Objective or Career Profile is the most acceptable way to start an Australian resume. Fresh college grads and those without work experience should begin their resume with a Career Objective, as it lets potential employers know what to expect from you. When developing your career objective, speak about your qualifications and accomplishments with self-assuredness, but don't sound too overconfident, as Australians dislike arrogance.
For those with work experience, beginning your resume with a Career Profile provides recruiters and hiring managers a brief summary of the rest of your resume's contents. A career profile serves as an appetizer to entice them to actually read through your application, so it needs to be written well and in a manner that highlights your skills and professional experiences in the best way possible. Make sure to include your academic and professional training in this section, as well as some information about your previous job position.
Regarding layout
You're free to inject some of your personal style in your Australian resume format as long as you keep a few considerations in mind. For starters, your font style should be one that looks formal and modern, so use a font like Calibri, Helvetica or something similar. Likewise, for the sake of legibility, keep your font size no smaller than 11. Remember that you don't have to limit your resume to one page the way Americans prefer it, so there's no need to cram as much info as you can into one page. Above all, keep your resume layout simple, well-organized, and easy to scan through.
Arranging the Work Experience section
Following generally accepted Australian resume format styles, when it comes to your resume's Work Experience section, it's best to start with your latest job position, then work your way in reverse-chronological order. Each item on your work experience list should include the beginning and end date of your employment as well as details about your work. When listing your responsibilities in the bullets, include quantifiable results whenever you can.
So instead of simply stating:
• Maintained records for the organization
Say something like:
• Initiated document management measures that helped the company save $10,000 throughout the new system's implementation.
Writing your bullets this way informs potential employers about your positive impact to your past jobs, and goes a long way toward leaving a good impression, again, without sounding overly confident.
Need an Australian-style resume?
You'll have a better chance of landing that Australian job by submitting an Australian standard resume. Should the task of crafting a well-written, well-organized Australian resume prove to be a challenge, don't fret—Australian resume writers from Resumeble are here to help. Contact us if you need your resume Australian style to impress employers in the Land Down Under.
-

Check Your Resume Branding

-

Learn About Main Mistakes and How to Fix Them

-

Check if Your Resume is ATS-compliant

-

Get Your Analysis within 24 Hours or Less!
Get a free resume
review
Upload Resume